Thinking About Moving, But Not Sure Where to Go? Here's How to Decide
We
independently
select these products—if you buy from one of our links, we may earn a commission. All prices were accurate at the time of publishing.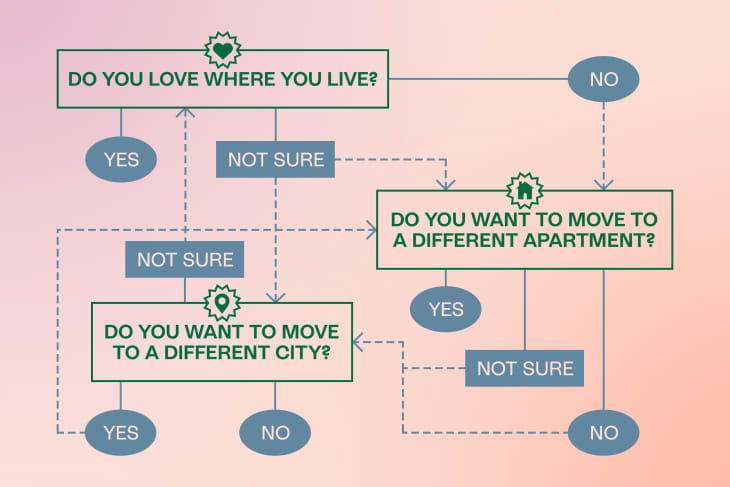 It was probably sometime around my hundredth Zoom call that I really started to question what made living in my city worth it. With the ability to work from anywhere, why wasn't I taking advantage of discovering a new place? 
It's a question plenty of remote workers are asking themselves these days — and it's a good one. Now is the perfect time to try on a new city or town for size. The only problem is that there are seemingly unlimited options; working from anywhere sure seems great, but anywhere is a big place.
While not everyone has the ability to pick up and move to a new city on a whim, those pondering a change have the entire country — and for some, the globe — at their disposal. Here's how to decide where you should end up next, with help from a few experts.
First, check in with yourself.
You might be tempted to open up a big ol' map of the United States, close your eyes, and pick the city closest to where your finger lands. (I recently found myself haphazardly scrolling through the Pacific Northwest, then bouncing away to research rent prices in Southern California.) But maps, it turns out, will not help you right off the bat. 
Look inward instead of outward, explains Su Jin Feuer, a psychotherapist with expertise in life transitions. "Start off by checking in with yourself and really reflecting on what it is in terms of what's most important to you in life and quality of life," she says.
One way to do that is making a good old-fashioned list of things you value in a place, Feuer explains. Is it connections to friends and family? Plenty of outdoor space to clear your head? A thriving job market to reinvent your career in? A place to slow down — or speed up?
She advises thinking about the kind of environment you feel your best in, and going from there. Then, when you're able to narrow down a list of places you're interested in, consider how you've made big decisions successfully in the past. When you follow your gut, do things usually work out? Do you feel better after talking things over with loved ones and getting their opinions, or not? 
"I think big decisions are often anxiety-provoking and could feel really daunting, like, 'My life depends on making the right decision.'" Feuer says. "I often tell clients that there are always choices… I usually say, in terms of big decisions, whether it be a job or a move: 'Hey, I could always try this place out, try this new job out, right? And then decide if I don't like it, I can always actually create a different option for myself.'"
Then ask important (and practical) questions.
Kenya Thomas, a 40-year-old marketing manager, moved from New York City to Buffalo in 2020. Initially, the move was temporary — the idea was to be closer to family, who would be able to help with childcare for her son. Soon, it became clear that a permanent move might work best for everyone.
"As horrific as the pandemic has been, it has also created opportunities for people like me to explore relocation opportunities and make career advancements," Thomas says. "I'm currently paying NYC basement apartment rent for a 3-bedroom luxury apartment in Buffalo while maintaining an NYC marketing professional income and my son is enjoying the closeness to his family."
Before making the decision to stay in Buffalo permanently, Thomas says she asked herself a few important questions. 
Am I mentally ready to make this move?
Is my job stable enough to make this move and not experience a layoff?
If I happen to be laid off, will I be able to find a comparable role and salary wherever I decide to relocate?
Will I be able to afford to travel to NYC as needed?
After talking things over with her husband, seeing all of the potential benefits for her son, and considering the added expenses of living in New York City, Thomas put down roots up north.
"The real estate market is enticing, too," she says. "I am preparing to purchase a home within the next year or so and I am now able to afford an education for my son, as he attends one of the top private elementary schools in Buffalo."
Take things for a test run.
Let's say after a few deep conversations with yourself, you've decided Boulder, Colorado, is at the top of your list: It has mountains, city life, and some really great breweries you loved when you visited a few years ago. What else could you possibly want?
If you've only ever been there on a vacation or two, you should take your desired city for a test run, says Jamie Oakley, a real estate agent with Keller Williams Village Square Realty in New Jersey. "Do an Airbnb or something like that where you can experience the area or even rent for a little bit before deciding if you want to stay," Oakley says.
Even if you feel really confident about your choice, it's worth easing into it.
"I think one of the biggest things to keep in mind is: Don't lock anything in," Feuer says. "What I mean by that is, if you're going to try a new city, you don't have to get a lease for the entire year, right? And you don't have to buy from afar just yet. Just try out a different city for a few months until you know for sure that you really like it."
Lean on a real estate agent for help.
It can't hurt to scope out neighborhood meet-ups and pose questions in local Facebook groups while trying to decide on a place to live. But if you're looking for an all-out expert to be your guide, Oakley points out you might want to defer to a real estate agent.
"I grew up in northern New Jersey. I know each town — and each town is really different — so relying on somebody who knows the area and is an expert in the locations you're looking at is a good way to get a feel for them." she says. "And they can recommend little downtowns to try restaurants, shops, and things like that."
Perhaps more importantly, real estate agents can also give you discounts on services you might have to use during the move. "Oftentimes we are able to help with discounts, whether it's on a storage unit or homeowner's insurance," she says. Getting firsthand recommendations from an agent who has worked with them before — and has had clients who've been really happy with them — is a win-win, Oakley adds.
As for me, I've already filled up two notebook pages with lists of what I value, and I've learned that moving closer to my family is definitely on the horizon.