How To Get An Infinite Closet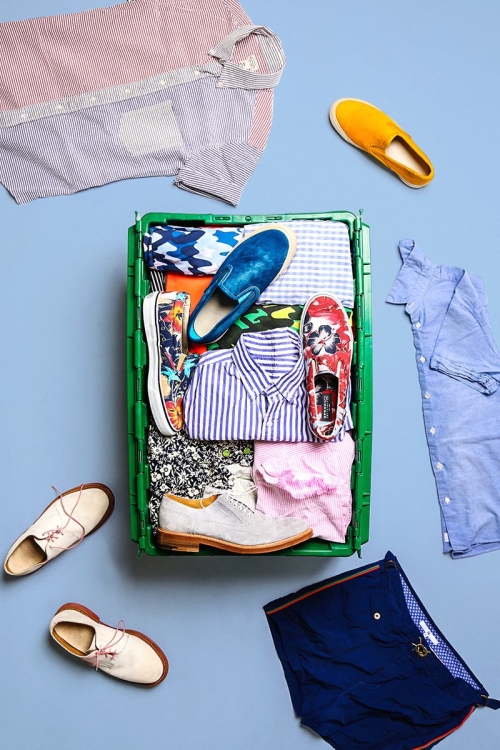 (Image credit: MakeSpace)
Do you dream about having a bigger closet? Obviously. Well, did you know that there's a seriously easy way to have an infinite closet? Meet your new best friend, MakeSpace – the storage service that picks up and redelivers your goodies with just a push of a button. This smart service makes it so that you never have to schlep your stuff to a storage unit again, because whenever you need something back (like your winter coats and snow boots), MakeSpace will bring it right back to your door. Easy peasy, right?
We just learned about this cool space-saving solution, and got the low down on how some cool people – from world travelers to fashionistas – are making unique uses of the service.
(Image credit: MakeSpace)
This long-time street style icon uses MakeSpace to store his infinite closet, trading gingham button downs and floral-print Sperrys (as seen in the first photo) for his winter wear. Once his labeled bins arrive at MakeSpace's secure storage facility, they create an online photo inventory so Nick can keep track of what's in his 'closet' at all times. "It's a lifesaver," Wooster says. "The delivery aspect is perfect for all New Yorkers."
(Image credit: MakeSpace)
The actress— you probably recognize her from "Masters of Sex" and "High Maintenance"— uses MakeSpace to store her bulky winter clothes in the summer and her bike in the winter. She's all about the simplicity of the process, saying, "It's so easy… and I know that when I'm ready for my stuff back, all I have to do is diddle on the MakeSpace app for like three seconds."
When this digital entrepreneur was working freelance gigs to support himself (all while trying to develop a New York startup), he realized the most cost-effective solution would be to spend some time with his laptop in developing countries where the cost of living was significantly lower than in the Big Apple. Traveling everywhere from Barcelona to Buenos Aires to Cusco, Peru, Tyler now gets to live like James Bond, using MakeSpace as his traveling wardrobe. He even keeps a bin in storage containing polished shoes and a tux – just in case.
Mary Helen Rowell is known best for making the most of her 90-square-foot apartment in the West Village. She rotates her closet seasonally with MakeSpace, and is generally a master of decluttering because, well, she does live in a shoebox. Having a storage solution helps her maintain her minimalist approach.
Ready to start living the spacious life?
MakeSpace is offering Apartment Therapy readers $50 of free storage! Just schedule a pickup at makespace.com or download the app and enter code AT50 to get $50 off!