I Spent $35 to Make My Family Photos Look Way More Expensive
We
independently
select these products—if you buy from one of our links, we may earn a commission. All prices were accurate at the time of publishing.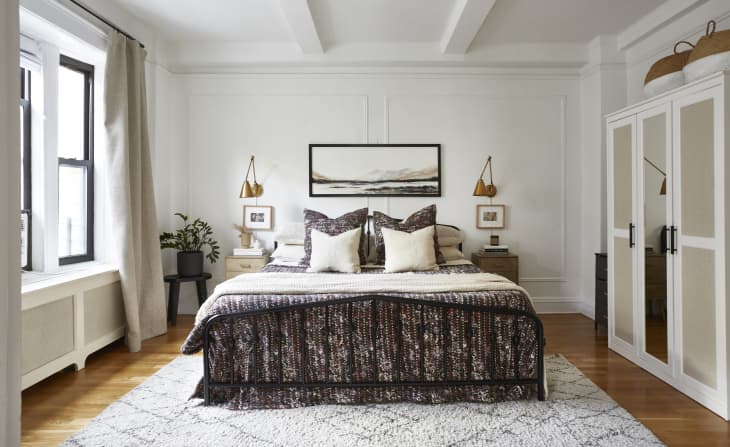 I love displaying "real" art in my home as much as the next person, but I think it's important to incorporate family photos into the mix, too. Not only do family photos make a space feel more personalized, but science shows that they also might actually be good for children's self-esteem! Turns out, studies have indicated that seeing reminders of who they are and where they fit into their family can potentially impact a child's development. But if the thought of displaying family portraits alongside more high-end looking art pieces or a curated gallery wall doesn't fit your aesthetic, I want to make the case for these four tips I tried, which you can see the end result of here in my home. I promise these ideas will elevate your own photos to a museum-worthy display. The best part? While these tricks instantly make any image look more expensive, they actually don't cost a lot to implement!
Print photos on matte paper.
First, I printed out a few family photos, but instead of using glossy photo paper (which tends to be the standard), I had them printed on special matte photo paper. Did you know when you order prints online from places like Mpix or Snapfish, you can actually specify your paper preferences? Choosing a matte finish over a glossy one makes any picture look more sophisticated, but it does cost a little extra. Think about it this way, though: The art in your home likely doesn't have a shiny finish, so why should your family photos? 
Opt for black and white prints over color ones.
Next, I had my photos printed in black and white. No special editing software was required for this; most online print sites also provide the option for either color or gray scale (aka black and white). I only had to click a button, and my colored photos instantly converted into black and white. This one simple change made them look so much more elegant and art-like. After selecting my color and paper type preferences, I still only paid $4 per 8×10 print!
Go oversized with your mats.
Once I had my family pictures printed, I began my search for the perfect frames that would make them look more expensive without actually being expensive. I found these classic-looking 16 by 20 inch black frames for only $31.84 at Walmart, which came with extra wide mats. This component added a thick, white border around my 8×10 prints and gave them the look of a custom frame job. Target and Michaels also carry similar, well-priced styles, or you can achieve the same look with frames you already own and easily DIY large-scale mats for a clean, elegant touch. I'm now convinced that the wider the mat, the more luxe your framed photos are going to look.
Remove the glass from your frames.
The last tip I tried was the easiest of all and cost me the least: I simply removed the glass from the frames and displayed our photos without it. Yes, really! Taking off the glass — and eliminating the glare that accompanies it — allows my first three tricks to really shine without looking shiny. Museums don't display art behind glass, plus any original artwork or paintings in your home likely don't have glass coverings, either. Just like printing the photos on matte paper gives them a more art-like feel, removing the glass from your frames will further heighten the overall look, wherever you style them.