Live Out Your Nancy Meyers "Holiday" Fantasy with This Cozy Home Scent
We
independently
select these products—if you buy from one of our links, we may earn a commission. All prices were accurate at the time of publishing.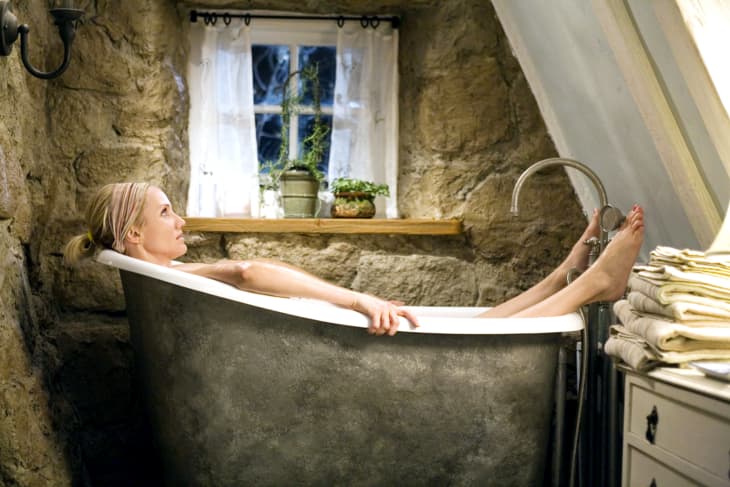 A night spent cozied up on the couch watching holiday movies can instantly get you into the spirit of the season. You've seen your favorites dozens of times, but it probably never crossed your mind to get your home's holiday scent inspo from these films — until now. When you think about it, there are so many iconic smells in these stories, from the troublesome tree in National Lampoon's Christmas Vacation to the incredible hot chocolate service in The Polar Express.
So, why not go for a complete sensory experience and make your house smell like Christmas or winter in general? With candles, simmer pots, and baked goods, there are plenty of ways to make smell-o-vision a thing this holiday season. Below, we've rounded up iconic scents from holiday films — some silly, some nostalgic, and some delicious — to make your home feel extra festive.
1. It's a Wonderful Life: Mulled Wine
Clarence Odbody, the angel in It's a Wonderful Life, asks for a glass of mulled wine — "heavy on the cinnamon and light on the cloves" — to lift the mood at Nick's, a bar full of cynics. You can inject a dose of liveliness into your own space with a potpourri sachet. Choose a small bag with an open weave or even a handkerchief or a sock. Then, pop in dry herbs and spices like cloves, ginger, citrus peel, and, of course, lots of cinnamon. Tie it up with a ribbon or sew the bag closed, place it under your pillow, and the fragrance will waft as you fall asleep.
This classic holiday musical is known for its soundtrack — from the title track to "Snow," a song its main foursome sings in a train dining car. Join in on the cast's love for ski slopes and snow-capped mountains with an outdoorsy scent like Mrs. Mreyer's Snowdrop room spray. With notes of poinsettia, white jasmine tea, and just a hint of wood, you'll be in a winter wonderland without leaving your home.
In an unforgettable Die Hard scene, John McClane struggles to eat a "1,000-year-old Twinkie" and asks what they're made of. Sergeant Powell, LAPD's Twinkie aficionado, says, "Sugar-enriched flour, partially hydrogenated vegetable oil, polysorbate 60, and Yellow Dye No. 5. Just everything a growing boy needs." Evoke the snack's sweet vanilla scent with Homesick's Birthday Party candle, complete with notes of butter, cream, and caramel.
4. National Lampoon's Christmas Vacation: Pine Tree 
In this holiday comedy that seems to adhere to Murphy's law, Clark Griswold plans to have a "fun, old-fashioned family Christmas" — starting with the tallest tree he can find. The family doesn't bring any tools to chop it down, so they have to uproot the entire tree. But you don't need to be "frozen from the waist down" like Audrey Griswold to breathe in a forest scent. Capture the vibe with a Soap & Paper Factory Roland Pine reed diffuser, featuring notes of refreshing pine and crisp fir.
5. Home Alone: Brut Aftershave
Eight-year-old Kevin McCallister splashes his dad's Brut aftershave on his face after he realizes he is the "man of the house," resulting in his iconic gut-wrenching scream. Surprisingly, the classic aftershave's citrus top notes with hints of spicy woods make for a perfect holiday scent. You can take a break from setting booby traps for the Wet Bandits and channel Brut with blood orange, cardamom, and cinnamon bark scents in Primally Pure's Warm Citrus Spice Room Spray.
6. Jingle All The Way: Sugar Cookies
Howard Langston is relentlessly taunted by his next-door neighbor, who mocks Howard over the phone by eating and raving about his wife's cookies. Howard famously barks back, "Put that cookie down!" Get a taste of Howard's favorite cookies by baking a batch yourself. These easy sugar cookies are so fun to make for the holidays and will fill your kitchen with yummy scents of almond, vanilla, and butter.
As an elf, Buddy sticks to the four main food groups: candy, candy canes, candy corn, and syrup. While we'll hold off on putting syrup on our spaghetti, the smell of maple syrup is something we can get behind. Get your hands on maple oil for a warm, delightfully sweet aroma. You can pop a few drops in your diffuser or bathtub for a relaxing night in. 
8. Polar Express: Hot Chocolate
A dancing waitstaff serves steaming cups of hot cocoa to children on The Polar Express in the most exciting, exuberant fashion. To get a taste of that winter wonderland holiday spirit, opt for a decadent cocoa-forward scent. You can easily achieve it with a simple (and delicious) hot cocoa recipe.
9. The Holiday: Roaring Fire
After a harrowing breakup, Amanda Woods sets off to an English cottage for a holiday getaway. Feeling cold and lonely, she sets up her fireplace and starts dancing and scream-singing to The Killers' "Mr. Brightside" to lift her spirits. Take notes from Woods during your holiday dance party with a fireplace-inspired scent — even if you don't have a working fireplace. Sandalwood incense is a great option to get that warm, woodsy aroma — plus, it'll linger for hours.
10. A Very Harold & Kumar Christmas: Waffles
Harold and Kumar usually bring to mind White Castle. But in the Christmas-themed installment, waffles save the day — literally. Spoiler alert: The pair is gifted a Wafflebot from Neil Patrick Harris, which burns their kidnappers and sets them free. Pay homage to the hilarious duo's hero with a Santal Vanilla fragrance. Its warm notes of amber, vanilla, and sandalwood mimic the bready, buttery aroma of freshly pressed waffles.
11. The Princess Switch: Berry Cake
When Stacy De Novo participates in a baking competition (while simultaneously falling in love with a prince and pretending to be a princess), she makes a six-tiered Christmas-themed cake. With its impressive size, vanilla cake, and raspberry filling, the masterpiece eventually wins her the competition. For a similar fruity aroma, put together a simmer pot. Add berries, lemon, and spices to a pot of water and simmer it on the stove. You can also include herbs like mint, lavender, or vanilla to fill your home with a cozy, satisfying scent.