This Is the Right Way to Move a Piano, According to a Professional Mover
We independently select these products—if you buy from one of our links, we may earn a commission. All prices were accurate at the time of publishing.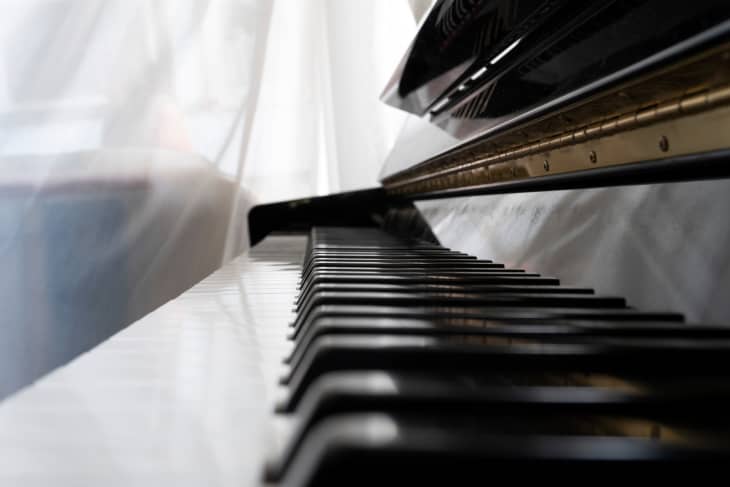 When I was in my twenties, I had a gorgeous vintage upright piano. I loved tinkering around on the keys, plucking out songs I heard on the radio or in television shows. Although I didn't have time to take lessons, I knew I wanted to keep it when I moved. 
Follow Topics for more like this
Follow for more stories like this
You know what I didn't want to do? Hire movers for it. So instead, my friends and I rented a couple of moving dollies, fashioned a ramp out of plywood and sheet rock to go over the stairs, and wheeled that thing out ourselves. 
Let me tell you — this was a ridiculous idea. That piano was heavy. And unwieldy. And did I mention that it was heavy? Hiring a mover would have been the smart thing to do. Here's what to know about moving a piano, if you're ever in the same position I was in.
Can I move a piano by myself?
Can you? Sure. Should you? Probably not. 
"I would discourage someone from trying to move a piano by themselves," says Noah Duarte of Gentle Giant Moving Company. "Most of the time, moving a piano requires more knowledge and skill than strength. Hiring professionals to move a piano will save you time, protect your personal safety, protect the piano, and protect your home."
A piano's weight varies greatly by what kind it is. An upright piano will weigh less than a grand piano by nature, just because it's smaller. In any case, you're looking at something that weighs anywhere between a few hundred pounds to more than a thousand pounds. 
What's the process for moving a piano?
How you move your piano depends on the type of piano it is and whether you'll be navigating stairs. An upright can usually be moved on a single level simply by using a four-wheeled dolly, just as long as you pad it first. If you have to go up or down steps, Duarte says you'll likely need a piano board, which is a specialized piece of equipment movers use for pianos. For a grand piano, you're better off completely disassembling it, even if it's just a short move. 
And remember, just because you see wheels on the bottom of the piano doesn't mean they'll be useful.
"The weight of the piano and the size of the wheels will usually mean marks being left on the floor," Duarte says. "Get as many hands on the piano as possible, communicate clearly with each other, plan out the route you will take and the steps to get to each point of the route, and go slow. Moving fast makes little problems turn into dangerous situations very quickly."
Should I hire professional movers for my piano?
It's probably the best choice — especially because moving a piano can seem easy at the outset but gets more difficult as the move progresses. 
"Moving a piano is a lot like a dance," Duarte says. "If you have a good partner and you both know the steps, the dance can look and feel effortless. When you don't, it will feel like a lot of work, and someone usually gets hurt."
Will I need to get my piano tuned after moving?
Probably not. Pianos don't go out of tune as easily as people might think — unless you're banging it around or being really rough on it during the move, it should arrive still tuned properly, Duarte says. 
"With that being said, if you are moving from an air-conditioned home to a home without AC, you may hear the sound of the piano change," Duarte says. "Atmospheric influences could cause your piano to fall out of tune, but generally speaking, moving a piano won't."