Moving a Sofa? Read This First
We independently select these products—if you buy from one of our links, we may earn a commission. All prices were accurate at the time of publishing.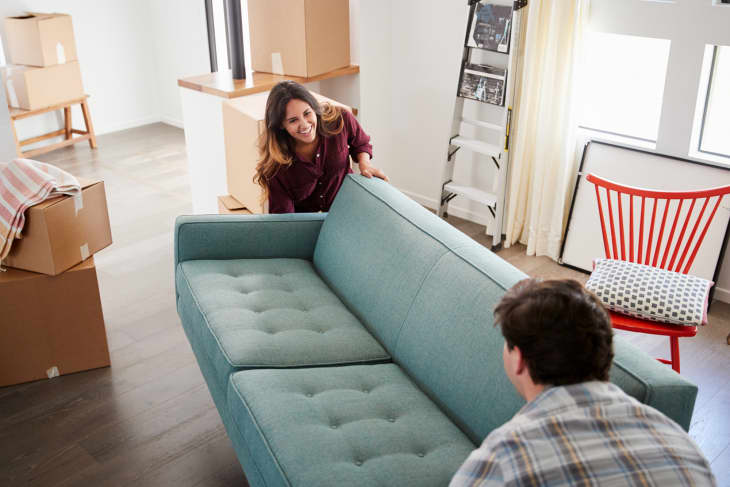 Your sofa is likely one of the largest—and most used—pieces of furniture in your home. This, unfortunately, can also make it one of the hardest things to move. 
The sheer size, awkward shapes, and hard-to-navigate corners you'll need to account for (PIVOT!) when moving a sofa or couch can turn it into a more complicated process than you originally thought. But with a lot planning (and a little bit of math), the process of relocating your couch will go much more smoothly. Sonya Weisshappel, founder and CEO of Seriatim Inc., an organization management company, explains how. 
Moving anything is stressful, but when it comes to moving a piece of furniture as large and cumbersome as a sofa, that stress level can skyrocket without proper planning. According to Weisshappel, that means a lot of measuring. "It takes some math to see if your sofa will fit," she explains. 
To correctly measure your sofa, she suggests going from the right arm to left arm, making sure you start from the furthest ends (that means taking the most heavily padded part of the sofa's arms into consideration). Next, you'll need to measure everywhere your sofa is going to go. This might mean through hallways, around corners, into stairwells, and onto elevators. "You need to know all of those dimensions," she says, explaining that if your sofa will be in an elevator at any point of your move, you will need to know both the height and width of the elevator. And if at all possible, consider moving it in pieces. "Every commercial sofa can be taken apart," she says. Just ask the couch doctor.
Even if the only thing that's moving is your couch, you'll still want to treat the move the same way you would if you were moving your entire collection of worldly possessions. Weisshappel says that might include calling your property manager to discuss the details, moving other furniture out of the way, and packing up things like area rugs and decorations to make more space for moving.
Get your couch move-ready
After you have made sure that your sofa is going to fit through everywhere it needs to, it's time to get it physically ready for the move. Weisshappel suggests removing loose pillows and cushions first, and then flipping your couch over to unscrew the legs. Lastly, you will need to wrap it in a protective material like shrink wrap or packing paper. Wrapping it will keep the fabric safe from dirty hands as well as any debris on the floor. 
While a sheet or moving blanket may be okay protection if you're only moving the couch around your own home, Weisshappel says it's not appropriate to use for longer distance moves due to the risks of picking up and bringing home pests like bedbugs (yikes)!
Of course, if all that seems like a lot more work than you wanted to take on, and you can afford to do it, hiring a professional mover may be your best bet. They will take care of the measuring, wrapping, and the heavy lifting for you. According to Weisshappel, this could run you between $400 and $750, including labor, supplies, and a tip. While a few hundred dollars may seem like a steep price for one piece of furniture, not having to spend your day off reenacting the sofa-moving scene from "Friends" is priceless.
Resist the temptation to cut corners 
If you can't spring for pros, try to avoid cutting corners. "If [the couch] doesn't have far to go, people don't do as much prep as they should," Weisshappel says. It doesn't matter if you're moving your couch down the hall, down the street, or down south, you should still do the same amount of prep work and take the same amount of precautions. Both your sofa and your back will thank you.