Here's How to Move Bulky Furniture, According to a Professional Mover
We
independently
select these products—if you buy from one of our links, we may earn a commission. All prices were accurate at the time of publishing.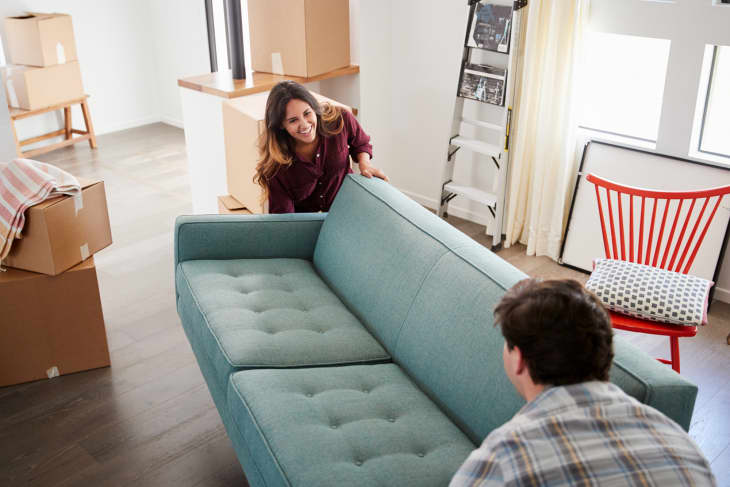 Are you moving but would rather not drop a few thousand dollars on movers? Don't worry — I gathered tips from a professional mover on how to properly transport bulky pieces in your home. Beyond moving a fridge and moving a bed, here's how to get the big stuff out of your place and into your new one.
Couches aren't necessarily the easiest thing to move, but they are one of the simplest. The first thing you should do is protect your home and the piece of furniture. That means putting down a lot of blankets or towels and trying not to drag the sofa across the floor.
"The walls and floors will get damaged, especially if you're sliding something," says Piet Gauchat, president of Olympia Moving and Storage. "The floors will get damaged very quickly and if it's a rental, that can be exceedingly expensive because redoing the floors is the only way to permanently fix that."
Putting towels and blankets down will help keep the fabric clean if you need to tip the couch over to remove the legs or to get it downstairs. If the couch has legs, leave them on for grips. If you're trying to navigate a narrow stairway, though, or if they're weak, take them off so you can have the extra space. The cushions can come out, or they can stay in if you shrink wrap the entire piece. Just don't use bubble wrap on the couch, Gauchat says. It'll slip and shift too much to be useful.
How to Move Dining Tables and Chairs
These are the easiest things on this list to move. For the chairs, you just pick them up and move them. For tables, you'll need to take the leaves out and the legs off first, then move the piece (no need to wrap it unless you really want to). Afterward, put the legs back on and the leaves back in. Easy peasy.
How to Move Dressers and Desks
There are two things you should consider when planning to move a dresser or a desk. First, is it a heavy, structurally sound piece, or is it made from particle board? If the piece is hefty solid wood, shrink wrap the whole thing — drawers included — and get moving. You can remove the drawer contents if it's too heavy. For particle board items, don't wrap it, because it puts extra stress on an already weak material. Gauchat says they're not really designed to be moved, so you may be better off just buying a whole new piece after you're done moving. The second thing to consider is whether you have a junk drawer or a lot of loose items rolling around. If you do, unpack the drawers first.
"All that should come out, because as soon as you tip it, that stuff has the propensity to be scattered all over the floor," Gauchat says.
Regardless of what you're moving and to where, make sure you're being safe about it. Gauchat says that if you aren't comfortable moving something, don't do it. It's not worth the risk to your health, the house, or the piece of furniture. Another sure warning sign you should call it quits on moving yourself? "When your friend tells you pizza and beer isn't worth it anymore," he says.