How to Remove a Popcorn Ceiling
We independently select these products—if you buy from one of our links, we may earn a commission. All prices were accurate at the time of publishing.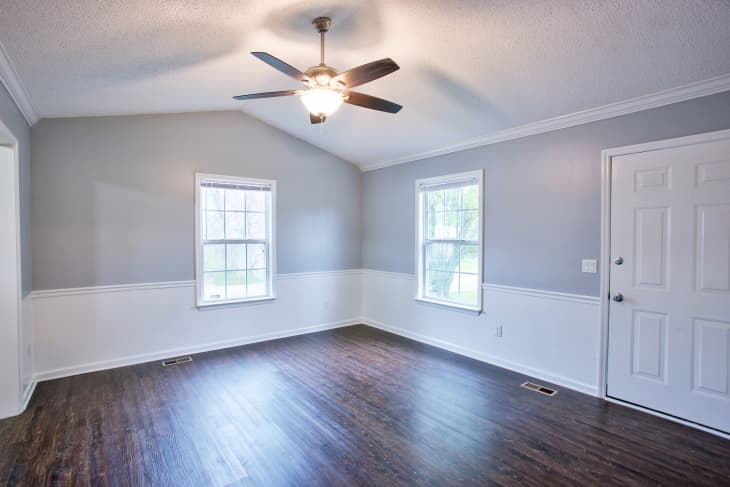 If you don't have a robust tool collection, though, expect to spend about $500 in supplies, says Christopher Totaro, a contractor and agent for Warburg Realty. By contrast, a professional will likely charge somewhere between $1,500 to $2,000 for a 20-foot-by-20-foot ceiling. Keep in mind that you'll also need to have tools for painting the ceiling once you're done. While tools and materials are generally not that costly, it's important to be aware of the commitment you're making. Depending on the size of the room, removing a popcorn ceiling can take a fair amount of time and effort, says Kevin Busch, VP Of Operations for Mr. Handyman, a Neighborly Company. 
But before you get started, there's one very important caveat: Because asbestos was often used in popcorn ceilings prior to the early 1980s, you should have the surface tested by a professional before taking on any painting or removal, says Krzyston. 
If the samples come back positive, Krzyston says it's imperative for the health and safety of you and your family to call a licensed asbestos abatement remediation company. But they come back negative, it's safe to proceed with your project. Here's how to do it.
What you need to remove a popcorn ceiling
A wide putty knife or drywall taping knife
Lots of drop cloths and plastic sheeting
Painter's tape
Water spray bottle
Safety goggles, gloves, and a dust mask 
Ladder
How to remove a popcorn ceiling
First, cover the room. Though it's not complex, this is a very messy project, says Krzyston. Have plenty of drop cloths and tarps on hand, and remove as much furniture from the room as possible; cover everything else. It's also a good idea to take down light fixtures, turn off your HVAC system, and close and cover all vents and electrical outlets with plastic. And because this job involves water, make sure to turn off the electricity to the room you're working in. Finally, open windows to let air circulate to help you breathe easier as you scrape away.
To make the task of scraping easier, spray the ceiling with water before carefully scraping away the popcorn texture, says Krzyston. Use a water spray bottle to wet a four-by-four-foot area of the ceiling, let sit for 15 minutes to let water absorb, then scrape. Working in small sections like this is helpful, otherwise the areas will dry before you reach them.
To scrape, use a wide putty knife or drywall taping knife and gently run it along the wet ceiling, being careful not to gouge the ceiling beneath it. Make your way around the room, until all the texture has been removed. When finished, check your work—in some areas, you may need to make a second pass. Remember, you can always spray the ceiling again to help loosen up a difficult area, says Krzyston.
4. Add a fresh coat of paint
Since you already have the floor and walls covered, now is the time to tackle the finish work, says Krzyston: that includes sanding, priming, and painting the ceiling.
If there's any damage or visible imperfections to the ceiling, such as gouges or damaged drywall tape, repair it with joint compound before you start sanding. After sanding, apply primer and a fresh coat of paint.