How to Replace Your Oven Light
We
independently
select these products—if you buy from one of our links, we may earn a commission. All prices were accurate at the time of publishing.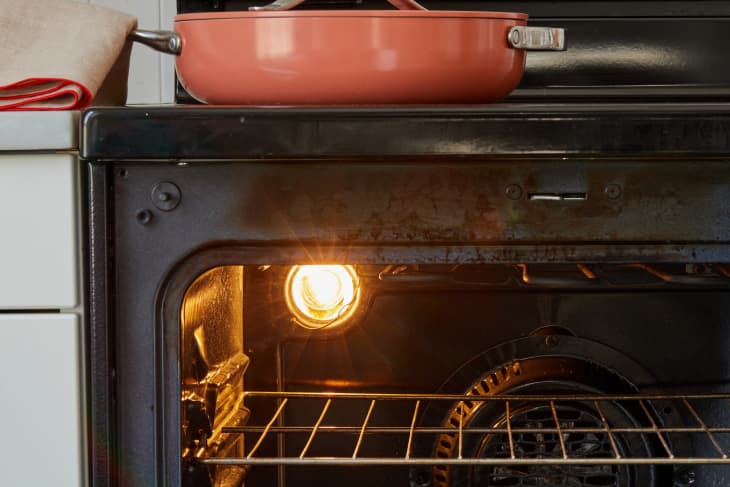 If you're an avid baker, then you probably rely on that little light in the back of your oven. The oven light helps you make sure everything is rising and browning like it should, whether you're baking a batch of blueberry muffins or loaf of banana bread.
While you may have a tried-and-true method for cleaning your oven, what about changing the oven light? Needless to say, if you're absolutely lost when that little bulb burns out, you're in the right place. Fret not, here are six steps to replace that burnt-out oven light safely and easily — without 1st degree burns or multiple trips to the corner hardware store.
1. Make sure the bulb is the problem.
Sure, the light doesn't come on, but that doesn't mean a burnt-out bulb is to blame. Check and make sure that there's power to the oven—maybe it came unplugged or a circuit shut off. You can also check to see if the problem is the switch located inside the oven door, the one that signals to turn on the light when you open the oven.
The easiest way to discover what bulb you need is to check your oven's manual. If it's M.I.A. (because really, who has their home's oven manual lying around?), use an online service. Or alternatively, just follow the rest of these steps to remove the burnt-out bulb and take it to the hardware store with you.
3. Let the oven cool completely and unplug it.
You'll usually discover that the bulb is dead just after you're finished cooking, but it's best to wait until the next day to try and extract it. At least wait for the oven to return to room temperature. It's not absolutely necessary, but to be extra safe you may want to unplug or cut power to your oven.
4. Find the bulb inside the oven.
It's amazing how impossible it can be in some ovens to find the light when it's not on. The bulb is often located behind a shield or cover. You might want to grab a flashlight for this task—and remember not to put any weight on the oven door.
Once you find the shield or cover, it should come off with a gentle pull or twist. Some glass covers are surrounded by a wire clip or ring that is screwed in the back. If that's the case, remove the clip and unscrew the glass cover like a jar, taking care not to break it.
6. Screw in the new bulb.
Replace the bulb using a tissue or cotton gloves, then replace the cover or shield. Power the oven on and test out your new oven light!