6 Little Ways to Save Hundreds of Dollars on a Moving Truck
We
independently
select these products—if you buy from one of our links, we may earn a commission. All prices were accurate at the time of publishing.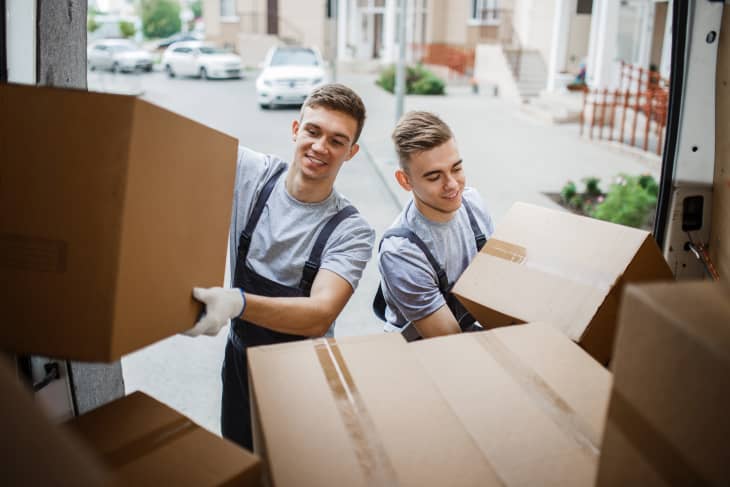 Although our interstate move is six months behind us (!!), my family and I are still settling in — and the memories of our move still feel pretty fresh. As we were going over our budget before the start of the new year, my husband and I recalled just how many financial resources went toward the move. 
The largest chunk (besides purchasing a new house, of course) was taken up by the move itself. I admire — and envy, a little bit — people who get rid of nearly everything before they move and start over when they get to their new location. But in our situation, it didn't make sense to renounce all our possessions and start from scratch. 
Thus, moving trucks were involved, and not just one. We ended up having to use two trucks rented from, packed, driven by a professional moving company. Then there was an additional truck rented from U-Haul and driven by us, making the three trucks total.
Along the way, I discovered a few methods for saving money while hiring movers. According to moving.com, the average interstate move costs about $4,890 for a 2- to 3-bedroom home and an average distance of 1,000 miles. Additional services, a larger home, and longer distances add to that cost. 
Since our house was larger than two bedrooms, I knew that our move would cost significantly more. I also was willing to pay for highly rated movers because I've not only heard a bunch of nightmarish moving stories, I've experienced (milder) ones myself. 
Nevertheless, I was determined to cut down on costs however I could. Here are some of the ways I saved money.
I began by casting the net wide, searching online for moving companies and narrowing down the options by their reviews. I also knew I was willing to pay for a quality company. At this point, I called around to compare not only costs, but also to compare how easy the company seemed to work with and accommodate us. I narrowed it down to one company. 
Compare costs by location. 
Once I'd chosen a company, I called both the Tallahassee (origin) office and the Knoxville (destination) office. Although the Knoxville office gave me a loose quote over the phone, it was suggested that I have Tallahassee representatives come give us a quote in person. I was absolutely shocked that the quote they gave me was over twice as much as the Knoxville quote. Needless to say, I went back to the Knoxville office and continued arrangements with them. The takeaway? Don't assume that you'll get the same quote from every office — even within the same company. 
To make sure your moving quote doesn't creep up once you get started, get a detailed estimate on paper. In our case, our quote was based on pictures from our house listing. Everything was itemized in detail, including furniture and boxes, as well as what specific services we'd have the movers perform. This estimate included a clause specifying the price wouldn't go up, so we signed on the dotted line. Avoiding hidden costs this way kept us on track with our expectations and our budget.
Make sure you're using a truck with the largest capacity. 
I found out that some trucks have capacity over the cab of the truck and some don't. If you are between one or two trucks, ask and make sure the truck you've reserved has the largest capacity for your needs. 
Ask what you can do to bring costs down. 
It's always worth an ask! Speak with your representative about how you can lower your costs. They may say that you could almost fit in a smaller truck, that you'd save by hiring an extra mover so that loading takes less time, or that if you could schedule your move for a weekday instead of a holiday weekend, your rate would go down. You just never know, and a simple tweak could save you hundreds or more. 
Straight-up ask for a discount. 
Again, it's always worth an ask. In our case, once I'd established a relationship with my representative (this is one reason it's so important to choose a company based on their responsiveness), I flat-out told her that our budget was X and asked if we could do anything to bring our total cost to that amount. The difference was a fraction of the total cost, and she took the amount off the top just like that. 
Between all these tips, we ended up saving thousands on our interstate move. Even if your savings aren't as drastic, any amount saved helps during the intense life transition of a move.