This Is Everything You Need to Put Together the Perfect Picnic, According to TikTok Luxury Picnic Planners
We independently select these products—if you buy from one of our links, we may earn a commission. All prices were accurate at the time of publishing.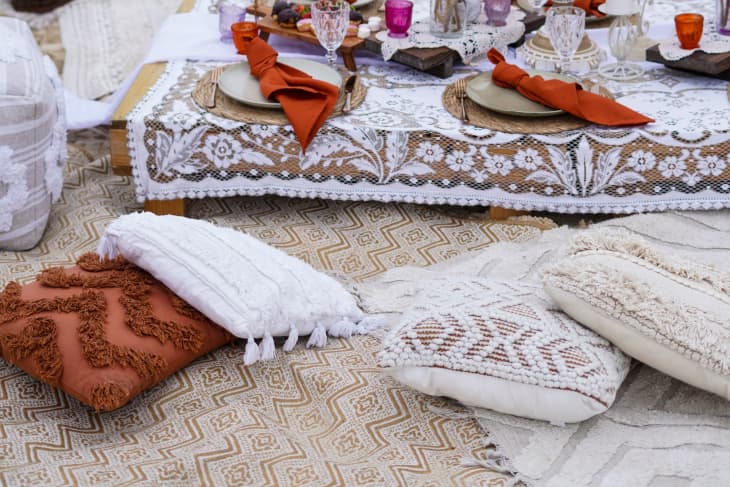 Summer is quickly approaching and, of course, it's the quintessential season to spend some time outdoors with your favorite people. If you'd like to stray away from your go-to patio dining spots, you might want to consider a picnic. Picnics don't have to be just gingham and grass — they can have plenty of their own personality and character. In case you haven't heard, picnic planners on TikTok are focused on taking picnics to the next level. 
I talked to two luxury TikTok picnic planners, Jocelyn Chin of Picnic and Chill and Val Villamizar of High End Picnics New York, to learn what they think you need for your picnic this summer. Here are their top tips for a tip-top alfresco spread. 
Deciding where to have your picnic is key. Choosing a park, a beach, or a locale where there is people-watching may give you something extra to talk about as you toast with friends or family. 
Chin says, "Our favorite type of picnic would definitely have to be somewhere with great views. This elevates your picnic experience because the view definitely sets the tone for the picnic." Though some clients, she adds, opt for "a picnic spot that is more meaningful." Although the vista is important, Chin says most importantly, the picnic is about the people. 
Use pillows to accentuate the space. 
By simply adding a few decorative pillows, a boring picnic set-up suddenly has ambiance. Pillows are aesthetic and functional — you can use them to lie down or rest comfortably. 
"Pillows can really set your picnic apart," Villamizar asserts. You can also try to plan your picnic around different themes. The bohemian theme is currently trending and Villamizar says the color white is the anchor for that kind of look. 
Add a coffee-style table. 
Using a small folding coffee-style table shows you're taking your picnic seriously. The table makes it easier for people to enjoy their food and also is a change from just a picnic blanket, Vlilamizar explains. 
If you don't want to invest in a picnic table, you can also use a mini folding table so that noshing on your favorite cheese and crackers doesn't get messy. 
A floral bouquet can instantly bring your picnic setup from ordinary to classy — all the most eye-catching picnic photos have flowers on display. 
If live flowers aren't in your budget, you can also try adding fake plants. Villamizar likes to shop at places like Home Depot and Amazon for "luxury" picnic goods that won't break the bank.  
Get a custom picnic basket.
It seems unnatural to have a picnic without a basket. Chin loves the Picnic and Chill basket that doubles as a charcuterie board for its function and chic look. If a cute photo op is partially motivating your picnic, having a basket in the scene is a must.
Think about small details.
Villamizar says at a picnic, "You want to do something different from what you would do at your home or would do yourself." She recommends ordering gold silverware for a cutlery option, as well as adding a table runner. And of course, you can't forget the napkin holders. "You can use different colors," she says, and try to match it with your pillows and bouquet. 
A fun way to capture your picnic moments is to give each of your guests a chance to take a picture with a Polaroid camera. You can have a tangible keepsake of your picnic instead of scrolling past the photo on your phone. Of course, if you don't want divorce yourself from your digital life, Chin recommends bringing a bluetooth remote selfie stand to get everyone in the picture.