This Tie-Dye Method is the Secret to Cheap, Easy, No-Mess Projects
We
independently
select these products—if you buy from one of our links, we may earn a commission. All prices were accurate at the time of publishing.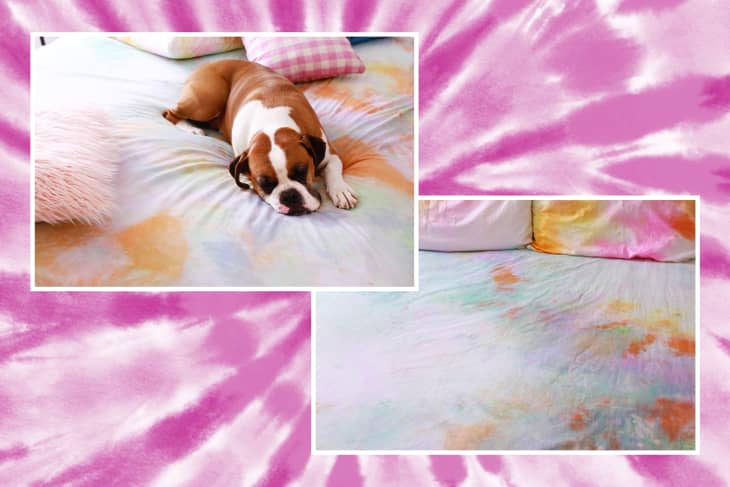 The groovy, free-wheeling look of tie-dye usually comes at a cost if you're DIYing, the cost being lots and lots of mess. Between squeeze bottles, dye baths, splatters and spills, it's hard to wrap up a tie-dye project without having to invest a considerable amount of time in cleanup.
If the funky, trendy qualities of tie-dye are calling your name but you're not up for the mess, you might want to give bleeding tissue paper a try. It's a lot less messy than traditional dyeing methods, and you won't need much more than a pack of bleeding tissue paper and a spray bottle to fill with water. Yes, you read that right—no rubber bands needed for this project! I have seen some beautiful techniques on paper and clothing (like this silk dress by HonestlyWTF), but wanted to try something larger scale. Bed sheets were perfect, since this is an easy way to revive past-their-prime sets to give them a little extra life (and a lot more fun).
The key to making this tie-dye method work is to use tissue paper specifically marked "bleeding tissue paper." That means that the tissue paper will release the dye onto your fabric once it's wet. Ready to give this project a try? Here's what you'll need.
Supplies needed to tissue paper tie-dye
100% cotton sheet set (or other natural fabric; synthetic won't take the color quite as well)
Bucket or very large bowl
Gloves (you'll need a few pairs)
Rags (2-3)
Spray bottle
Salt
White Vinegar
Washing Machine and detergent
Dryer
Iron (optional)
Before you start, some helpful advice: this project is all about letting go and seeing what happens. If you can come to terms with that beforehand, the project will be fun and possibly even meditative. If you try to control it too much, you won't enjoy the process. Bleeding tissue paper, well, bleeds! It goes in unexpected directions affecting every surface it comes into contact with, soaking through to the underside of pillowcases, and blending with other colors to create results that are out of your control. Really, the only control you have is your color scheme, and how vibrant you want your project to turn out. It can be difficult to get dye to stick, so I suggest going a little more vibrant than you actually want, because after you wash your sheets they will fade a bit. If you're feeling uneasy, start with a pillowcase first, then work your way up to the fitted and top sheets.
Launder the sheets, but skip the dryer. Place your damp sheets in a bucket filled with 4 parts water to 1 part vinegar and let soak for an hour. Place a plate or something heavy on the sheets to make sure they're fully submerged in the vinegar solution.
2. Prep your tissue paper
While the sheets soak, prepare the tissue paper. Decide if you want a color scheme and tear or cut the paper into shapes and sizes that you want to use. If possible, organize each color in a bowl or on a plate and place them up and away from the workspace so excess water won't ruin them. 
Remove one item from the soaking bath, wring out excess vinegar + water solution, and open it up by spreading it out on the grass. If you're working indoors, make sure to lay down a garbage bag or a large piece of plastic to protect your surface.
4. Create your tissue pattern and spray it down
Arrange the tissue paper on the wet surface, press down, then saturate it with water from a spray bottle. Since salt helps to set color, I filled my spray bottle with a super hot salt water solution. To make it, boil 2 cups of hot water, then add 1 tablespoon of salt. Mix until dissolved, then add to the spray bottle. Use caution, as the bottle will be very hot! I wrapped a kitchen towel around the bottle so I didn't burn my hands. 
5. Let the tissue paper soak
Allow the tissue paper to soak into the fabric for 20-30 minutes. Re-wet the paper with your spray bottle if it starts to dry out. 
6. Remove paper and wash sheets
Remove the paper and rinse the sheets in lukewarm water. Hang the sheets until they stop dripping, then place in the dryer on high to help set the color (don't worry, you won't dye the inside of the dryer!). If you want to go the extra mile, iron each piece to set the color.
Here's my finished product:
Already mastered sheets? Here are some other projects you can try:
Tablecloths or napkins: This would be a great way to camouflage less-than-perfect table linens.
Curtains: A subtle monochrome tie-dye would be a sophisticated-yet-colorful upgrade to plain white curtains. Or go bolder with the coloring and use the curtain in your shower along with a curtain liner.
Cushion or pillow covers: This mess-less method is great for big projects, like oversized cushion covers. Make sure to remove the cover from the pillow first. You could also use tissue paper tie-dye to re-color a slipcover.