IKEA's Latest Art Collection Is Inspired by Functional Items (Including an Allen Wrench Lamp)
We independently select these products—if you buy from one of our links, we may earn a commission. All prices were accurate at the time of publishing.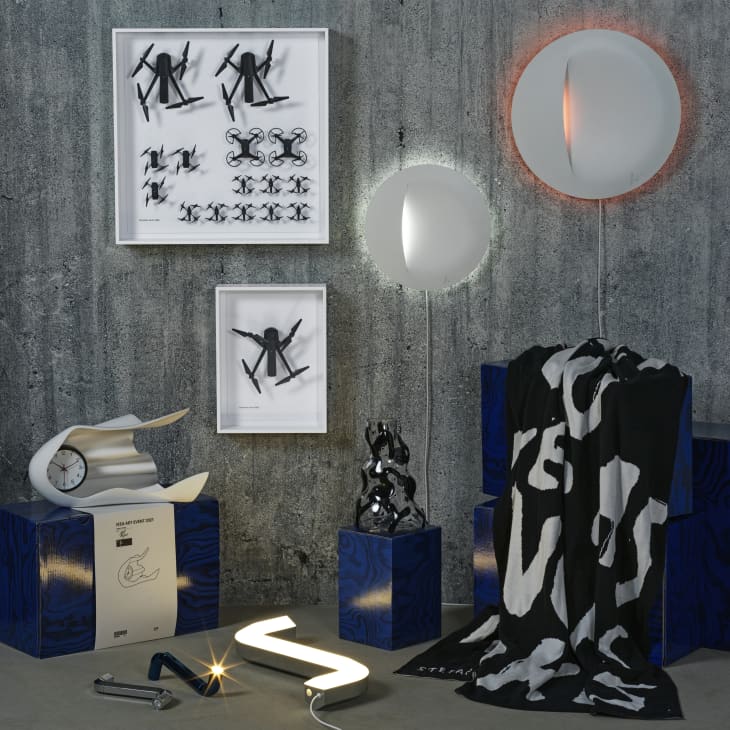 IKEA's Art Event 2021 collection is here, and it features ten limited-edition pieces made  in collaboration with artists from all around the world. The pieces in the collection — including abstract wall clocks and an Allen key-shaped lamp — blur the lines between high art and functional design.
Follow Topics for more like this
Follow for more stories like this
"Each item in this collection has a practical function, and at the same time it is an art object," says Henrik Most, Creative Leader for IKEA Art Event. "The traditional idea of art being high-end and design being part of mass culture simply is not relevant anymore. The two go fantastic together – that is where the magic happens."
This is IKEA's sixth annual Art Event collection — a continued effort to democratize art by bringing it into every home, especially this year when visits to art museums are limited. In fact, the 2021 collection can be experienced from home through customized AR effects available via IKEA's Instagram page.
This year's featured artists are from all around the globe:
Daniel Arsham
Daniel Arsham, co-founder of Snarkitecture, a New-York based design studio, is an American artist whose work is a hybrid of art, architecture, and performance, which is unsurprising given that he has worked in the worlds of fashion, stage production, interior design, and architecture. Arsham's most recent work explores "ideas related to future civilizations and archaeological decay," according to the press release. Arsham created a dramatic black and white tabletop clock for the collection.
Sabine Marcelis
Marcelis, fascinated by the interaction of materials (for example, resin or glass interacting with light) is New Zealand-born and Netherlands-based. Working in product, installation, and spatial design, Marcelis aims to "to create magical experiences through her engaging designs," according to the press release, and relies heavily on discoveries made while tinkering in the studio. She designed a wall light for the 2021 collection.
Humans since 1982
Humans since 1982 , consisting of Bastian Bischoff and Per Emanuelsson, formed in 2009 while both were students at HDK Göteborg, a school of design and crafts in Sweden. Humans since 1982's art focuses on both the progress and destruction that technology can cause. Their framed drone collection for Art Event 2021 comes in two different sizes.
Stefan Marx
German artist and illustrator Stefan Marx draws inspiration from different subcultures, like graffiti and techno, to bring vibrancy to "the mundane of everyday," according to the press release." Marx creates art across many mediums, including skateboard designs, large-scale oil paintings, and porcelain vases. For IKEA's Art Event 2021, he created a glass vase and a blanket.
Gelchop
Gelchop is a Japanese collective that deconstructs everyday objects by combining them with others to change their function in a whimsical, interesting way, like the Allen-wrench turned-light-source for the Art Event collection. Gelchop's artworks prompt out-of-the-box thinking and encourage onlookers to question "an object's 'true' purpose in the world," according to the press release.
Most items from Art Event 2021 will be available online at IKEA-USA.com and in IKEA U.S. stores beginning April 1, 2021. Note that the LED wall lamps designed by Marcelis will not be available online or in California IKEA stores, and the Humans since 1982 wall art designed by will be available online and in stores beginning in May.