IKEA Is Making Changes to Its Iconic BILLY Bookcase
We independently select these products—if you buy from one of our links, we may earn a commission. All prices were accurate at the time of publishing.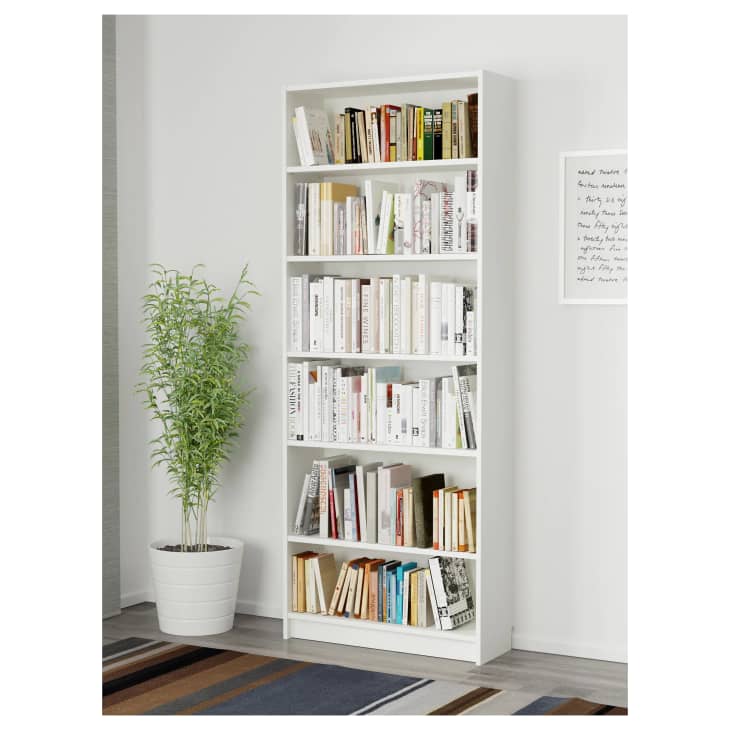 Initially introduced in 1978, IKEA's beloved BILLY bookcase has become a go-to product for book-lovers, thanks to its relatively inexpensive price range, versatility, and ability to be easily customized with clever DIY hacks. But thanks to inflation and rising material and shipping prices, the iconic bookcase is about to look a bit different.
According to a new report from The Wall Street Journal, these economic challenges have prompted IKEA to redesign its products to keep prices low while still meeting profit margins. That means that instead of using wood veneer on BILLY bookcase, the retailer will now use "paper foil" — essentially thick contact paper — printed with wood patterns.
Follow Topics for more like this
Follow for more stories like this
The traditional BILLY stands at 6 1/2 feet tall and 2 1/2 feet wide. It's currently available in two different styles: the $119 wood finish bookcase (which is available in birch veneer and black-brown shades) and the $89 white bookcase (which is made using particleboard, paper foil, and plastic edging). As WSJ notes, the BILLY was last redesigned in 1999, when IKEA designers reduced the product's price simply by replacing its traditional white lacquer with melamine foil.
Right now, the new BILLY bookcase design is set to hit U.S. and European IKEA stores in early 2024. However, these changes have already raised some alarm bells from critics. As Curbed writer Diana Budds pointed out in a recent piece, slimming down and more cheaply producing products runs the risk of significantly reducing the longevity of IKEA furniture — not to mention that this new foil probably won't do much to change the common complaint that BILLY bookcase shelves are prone to sagging.
And as University of Illinois, Urbana-Champaign professor Deana McDonagh previously told The New York Times, fast furniture like IKEA products are only designed to last about five years, meaning that the vast majority of them eventually wind up in landfills.
That's not to say that IKEA products aren't often an easy, cost-effective way to transform your home on a budget. However, we'll have to wait and see whether the newly designed BILLY bookcases can stand up to the product's esteemed reputation.