This Is the Most Unique, Small Space-Friendly IKEA BILLY Bookcase Hack I've Ever Seen
We
independently
select these products—if you buy from one of our links, we may earn a commission. All prices were accurate at the time of publishing.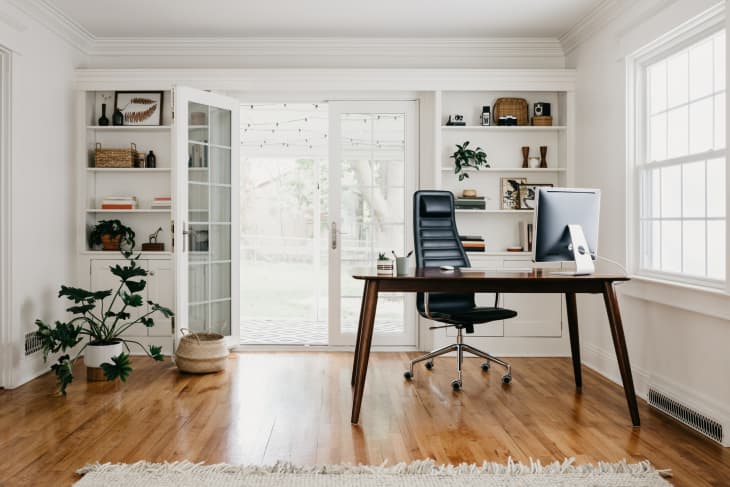 For people who work from home and those who love to read, two major features often pop up in their homes: some kind of an office setup and large bookshelves. What's even better? When people find a way to merge these two features. You see quite a bit of that, too, and IKEA product often leads the charge in creating an affordable home office area with impressive shelving.
Lottie Goldsmith lives in a 125-year-old, 1650-square-foot home in the UK with her husband Mike and their five children. Goldsmith says she and her husband had been looking for a home fit for their family "for ages" but could never find the right one. After falling short in their search, the Goldsmiths decided to purchase an old fixer-upper and renovate it themselves.
The Goldsmith home's a standard Victorian with good bones, but it needed a lot of love and creativity to be functional for a family of five. "The usual ground floor layout is to have the living room at the front of the building, a dining room in the middle of the house, and the kitchen beyond," Goldsmith says. However, she decided to deviate from the norm a bit, dividing the dining room into two separate zones and then transforming the living room closet into a cozy office with IKEA BILLY bookcases galore.
"I'm an interiors writer, so I will always love books and magazines," Goldsmith says. It makes total sense that Goldsmith figured out a way to bring floor-to-ceiling shelving into her tiny DIY "cloffice." To create it, Goldsmith removed the doors from the closet and painted the trim mauve then added a hot pink border around it. Inside, she placed a desk and chair along one of the shorter walls and an accent chair for reading.
Where you'd typically see a tension rod filled with clothes, instead you'll find IKEA BILLY bookcases that fake the built-in look and really pull this room-within-a-room together. "I love the thin IKEA bookcases that we've used in the office," Goldsmith says. "We had the standard version before, but these ones give the room more of a library feel." Thinner is also better for building out a cloffice, since you'll likely be working with shallower dimensions.
This family's home is eclectic, artsy, and a bit bohemian, and this closet-turned-office fits right in. "I like to surround myself with beautiful things, objects with history, and plenty of color and texture," Goldsmith says, and she did just that.