This TikToker Found an Unbe-leaf-able Use for Her IKEA Dining Table
We
independently
select these products—if you buy from one of our links, we may earn a commission. All prices were accurate at the time of publishing.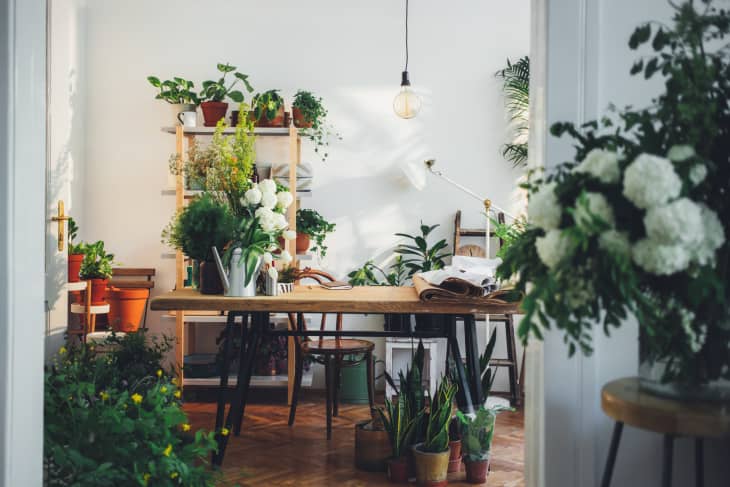 You've heard of hanging your plants in macrame hangers, or building shelves specifically for plant displays. But have you ever considered showing off your plant collection in your dining room table? One TikToker has mastered the art of creating table planters using glass-topped tables from IKEA, and it's one of the most magical ways to display plants ever.
Ren of @whoputalltheseplantshere had a video go viral on TikTok in which she showed off how she waters her plants tucked away in her dining room table. People went wild in the comments needing to know more — how did she make it? Does it light up? What kind of plants are in there? 
Luckily, Ren has a YouTube video showing just how she created this incredible piece, and it all starts with a GRANAS table from IKEA. Unfortunately, IKEA doesn't sell these tables new anymore, but as Ren says in her video, most glass-top tables with shelves underneath will work just fine.
She then built the planter box using cardboard to create the sides, then covering the entire base and walls with thick black tarp material.
Ren's tables (yes, she has made multiple!) are all hydroponic, meaning that the plants are planted in substrate rather than soil. This cuts down on potential pests and makes the whole thing a lot less messy to deal with. So once the box is built, Ren begins decorating with substrate and plants.
Once all the greenery is placed, you can then decide if you want to add grow lights (if your table will be in a low-light area), LED fairy lights for added ambiance, or some more decorative rocks, as Ren did with her coffee table planter.
If you're interested in creating a plant table for your home, Ren's TikTok, Instagram, and YouTube are wells of information for how to best go about doing so. Thanks to her, your home is about to become more of a fairy palace than you ever imagined possible.