This IKEA Hack Turns a Plain TARVA Dresser into a Vintage-Looking Heirloom
We independently select these products—if you buy from one of our links, we may earn a commission. All prices were accurate at the time of publishing.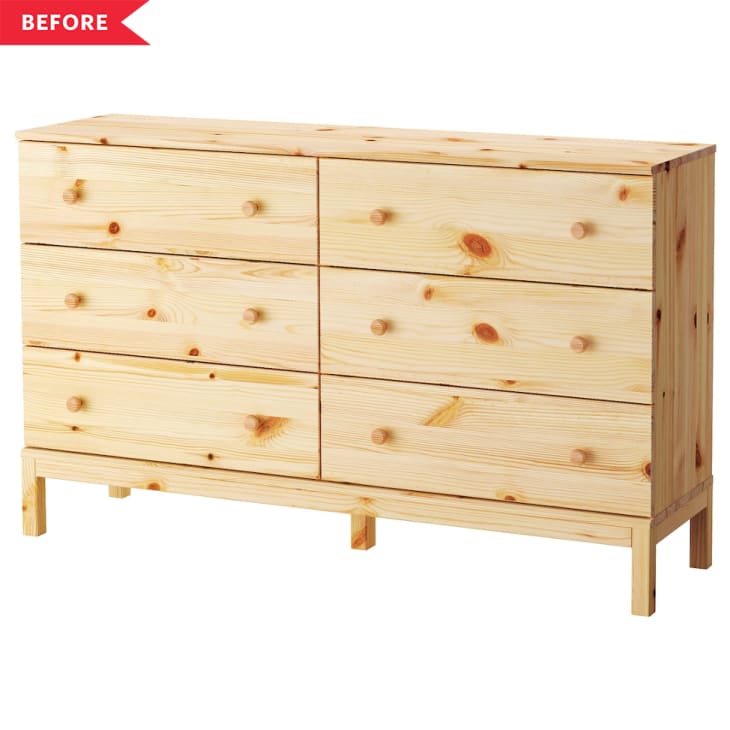 Furnishing a bedroom can quickly get expensive—especially when you're looking to fill it with quality solid-wood pieces. Mallory Beckman realized as much after searching in vain for months for dressers. "I was so disappointed in the prices!" she says. "I wasn't ready to spend upwards of $700 on a single quality dresser, and I was also not thrilled at the thought of getting something largely made of particle board."
Follow Topics for more like this
Follow for more stories like this
Mallory had also been eyeing vintage pieces, which suited the vintage-inspired look of her home. While she loved the look, the ones she found in her price range required restoration beyond her time or skill level. Finally, inspiration struck: "I had seen lots of IKEA TARVA makeovers, and thought the price was reasonable enough to test out my DIY skills," Mallory says. "I've also owned a lot of IKEA and their quality is pretty solid, so I thought—nothing to lose!"
Mallory picked up two TARVA dressers for her redo project. "My goal was to get two gorgeous dressers for the price of one department store dresser," she says. That meant a firm budget of $700, including the cost of the furniture pieces. She knew she wanted to incorporate the dark wood tones that were present in the rest of her home, as well as some of the ornate details she'd loved on authentic vintage pieces.
Mallory started with the TARVA dresser unassembled. She used a yardstick and a compass to draw her designs on the drawer fronts; then, her husband Brian used a router with a V-shaped bit to carve out the design. From there, Mallory painted the fronts with white paint (Sherwin-Williams' Extra White). For the rest of the dresser frame, she chose a deep chocolatey stain. "A pre-stain wood conditioner is a must," Mallory advises."The stain comes out very uneven and blotchy without it—you do not want to skip this step! It's a game-changer!"
To give the dresser top a little something extra, Mallory created a curvy design on her computer before printing it, tracing it onto wood, and cutting out the piece with a jig saw to create the ornate piece. She stained it the same deep brown as the rest of the frame and screwed in place.
Mallory snagged a bunch of vintage-look swing pulls on Amazon to complete the old-school style of the dresser. Together, the details make it hard to recognize that this dresser is brand spanking new, and not a flea market find. "I love that I got two beautiful custom dressers for the price of once department store item, and we now have so much room for storage," she says. "I think the style is so fresh but also timeless. I wouldn't do anything differently—other than maybe doing this project in the fall, instead of in the middle of heat wave in July. That garage was hot!"

Inspired? Submit your own project here.