IKEA Kitchen Cabinets: Pros, Cons & Real Life Owner Reviews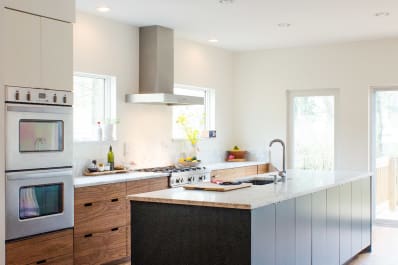 A beautiful, functional, new kitchen is a wonderful thing. The act of renovating a kitchen, maybe not so much. It's a job that causes even the calmest heads to get a little stressed over the decisions that need to be made. To help ease the strain for all the brave planners, I gathered some of our best real-life info on a item that most every renovator considers due to their reputation, availability and price: IKEA kitchen cabinets. Here's the scoop, straight from our smart and savvy readers...
The Pros & Rave Reviews:
My partner used to work as a kitchen designer for a super high-end German cabinet company, and we bought Ikea cabinets for our kitchen remodel. The boxes are built exactly the same way as the $100,000 kitchens he used to work with, and they use the same brand hinges and drawer slides!

We put them together and installed them ourselves. The Euro cabinet system is SO MUCH EASIER to install than American style cabinets. The wall cabinets all hang on a rail. You install the rail by screwing it into studs and making sure it is level. Then each cabinet that hangs on it is automatically level - genius. The base cabinets come with legs that have twist-to-level feet, so there's no shimming involved.

We have 14 cabinets total - I put them together by myself in 1 day while my partner was demo-ing the old cabinets, then we installed them together the next day. Honestly, a new kitchen in a weekend.

They have been in for 3 1/2 years, and we haven't run into a single issue. The hardware is still soft-close, and the cabinets and doors/drawer fronts are holding up great. We used dark wood veneer slab fronts on the base cabinets, and white lacquered MDF slab fronts on the uppers (I can't remember the name of either).

I honestly can't recommend them highly enough. - sillyputty
I have done 2 remodels both with Ikea cabinetry. Both turned out very well, the kitchen in particular was awesome. My partner put together all the units and did the levelling. We had the ikea people put in the bench top. All up the quality was 10/10 and with the money saved we splashed out on modern appliances. I should add, all the cabinetry is pull out so there is no awkward reaching. The cabinets were the best ikea ones available, solid wood fronts.. - Johanna in Perth
I have an Ikea kitchen with akurum cabinet frames and adel fronts/doors. I really couldn't be happier! It looks great and so far has held up well (only had it for 6 months tho). All of their cabinets and drawers feature soft closing hinges, so there is no banging. And the level of customization you can get for the price is unbeatable. I especially love having drawers and pull-outs instead of traditional cabinets. I'm very satisfied. -jelica
Love 'em. Ikea cabinets were by far the least expensive option in our area, and the quality has been at least as good as any "traditional" manufactured cabinets that we saw. They have held up well and are a good value - which is particularly important in a neighborhood like ours where the property values do not support a very expensive kitchen remodel. I do recommend that you look into buying hardware from another source to avoid the "This Came From Ikea!!!" look. - Learned Foot
We had IKEA Nexus units put in 12 years ago and they have held up very well. Only one hinge went - and that was because my children kept swinging on that door! (and we were able to fix it ourselves) and the kickborad has become scruffy. We had very good installers who we hired ourselves. We have had carpenters in to do other work who have said that IKEA do the best flatpack kitchens (in the UK) in their opinion. I would not hesitate to have an IKEa kitchen again - unless I intended to stay in a house forever, then I might consider paying more. - neeny
Ikea cabinets are surprisingly well built. My husband and I remodeled my parents' kitchen 5 years ago and they are still in great condition. We did the installation ourselves and it went very smoothly. All you have to do it level the long bracket bar and the cabinets just slide right in! We had around 300+ pcs/ boxes delivered, so it was pretty daunting to look at. However once we started assembling the cabinets, it went surprisingly fast. I def. recommend them for the quality and easy assembly/ installation. -megchicago
We put in Ikea cabinets about 6 months ago. We priced other cabinet options, and we couldn't get comparable quality for anywhere near the price. (Since I had heard internet claims that hiring a custom cabinet maker might be a surprising bargain, we even priced this option. It was about 4 times as much as the Ikea cabinets!) Part of what made Ikea a good option for us is that we could easily modify and hang them ourselves. (We modified several cabinets to optimize space and get a more built-in look.) We were able to choose a style that was almost an exact match to the original 1880 cabinets, and we bought appliances and hardware separately. We love the kitchen, and we managed a complete gut remodel for only $10,000. (And that includes absolutely ALL of our expenses.) - emilie_b
When we did our kitchen 5 years ago, I considered IKEA but ultimately decided to go with pricier cabinets, which were available in a style and color not offered at IKEA. To offset the cost, I skimped on appliances (in fact, kept the fridge) and used white Corian instead of my first choice, marble. While I still love my kitchen today, I have regrets and think it might've been wiser to save on cabinets and splurge on appliances and counters. My expensive cabinets are showing wear that I doubt would be much worse on IKEA cabinets. - CallDoctorBison
Related Video: Peter Klinkert explains why IKEA is a great place to buy kitchen cabinets
The Cons & Warnings:
While I am not lucky enough to own a home, I know 2 families that have purchased IKEA cabinets. Both have commented that the cabinets are fine, but the installation was awful. Since IKEA contracts local companies to do the actual installation, I would first find out if your local company is reputable. If not, hiring someone you trust is also an option. It makes it more expensive, but will be worth it in the end. -Bear in the City
My dad installed IKEA cabinets at one of his remodeling projects, and his review of them was that they look really nice and are good quality, but are an enormous pain to put together. Apparently the cabinet assembly doubled his project time, and considering he bills labor by the hour, they could get pretty expensive if you're not DIYing it. He also felt like he needed to add additional reinforcement before putting on a stone countertop. Not a dealbreaker, but another extra step. - Jax Sanders
I think with all things Ikea, the quality and durability really depend on the assembler. I've definitely seen quite a few kitchens that screamed Ikea because there were gaps and angles that were slightly off, etc, and others that looked beautiful. Just make sure you have someone skilled and with good attention to detail building and installing your cabinets. -ebgb500
We bought a house that had a newly installed Ikea kitchen installed. Honestly, at first I didn't like them since the colour wasn't our thing but after living with an Ikea kitchen for some time now, I wouldn't ever recommend it. I find that the cabinets are just too short and shallow. They don't even hold our plates! Also, they just feel cheap. It's like I can smell the MDF under the wood veneer. The few things that aren't bad about them is that the hinges seem so be good and the drawers close quietly. Otherwise, there's nothing particularly redeeming about them. - iamayardsale
My husband and I did a complete DIY gut rehab of our kitchen about 5 years ago and used Ikea. By far the hardest part of the installation was getting everything level. Our kitchen was completely uneven, and getting each and every cabinet level in all directions was hard for us. Although we carefully measured and purchased our cabinets accordingly, they were not all the advertised sizes upon arrival. Some of them were metric measurements, and some were standard, so they didn't match up on the wall. I hope Ikea has fixed the measurement issue, but be aware that the horizontal cabinets were metric when we bought. Everything has done very well in our kitchen, except for one cabinet holding heavy dishes which has begun to sag. Additionally, the soft-closing dampers are not so soft any longer, but they're so cheap and easy to install that we could easily replace all of the dampers in our kitchen. Our only concern is that Ikea would discontinue our version of the hardware and new stuff would be incompatible. We initially bought an Ikea butcher block countertop and tried to install it ourselves, but it was a miserable failure. We ended up having a granite countertop installed. - Nikki P
The ordering process at the store took so much longer than we expected. We arrived at the store at 6:30pm and left at 10:30pm. And even with a lot of planning, we had to go back to the store 3 times. I don't know that I would do an IKEA kitchen if I didn't have a store near by for quick trips to pick up needed items or return damaged goods. - fabricwench
My parents redid their kitchen in the last year. They looked at IKEA cabinetry but went custom for several reasons. The first was that the customization is just not there with IKEA cabinets. They were able to have deeper pantries with drawers than they would have with IKEA. They did not want to have to use a lot of filler pieces like they would have with IKEA. Their contractor has installed IKEA kitchens before and said they were a pain to get level and didn't always fit flush. They got all the features they wanted going custom, like a large lazy susan, a non-standard corner cupboard, drawers that were specific depths to hold spice jars and mixing bowls, an angled lower cabinet to maximize counter and storage space without impeding traffic. Yes they paid more, but they got the kitchen they wanted that would suit their needs. IKEA is good if you're working within a tight budget or if you don't use your kitchen. - oliviahoney
The only caution I have is that if you don't live near an Ikea store, it can be a slight gamble. The employees who pull together your boxes at the store are great, but they are only human - we have left the store with parts missing and needed to make return trips. If it's quite a drive to your nearest store, know that you may need to make another run. Otherwise I'd recommend their cabinets for sure - go for it! - BrightWall
(Image: IKEA Cabinets with Custom Doors by Faith Durand / Faith's Kitchen Renovation: The Big Reveal, the Final Result!)

Re-edited from a post originally published 10.2.13 - JL
Apartment Therapy supports our readers with carefully chosen product recommendations to improve life at home. You support us through our independently chosen links, many of which earn us a commission.