IKEA Now Sells a Teeny Tiny Version of Its Big Blue Bag
We
independently
select these products—if you buy from one of our links, we may earn a commission. All prices were accurate at the time of publishing.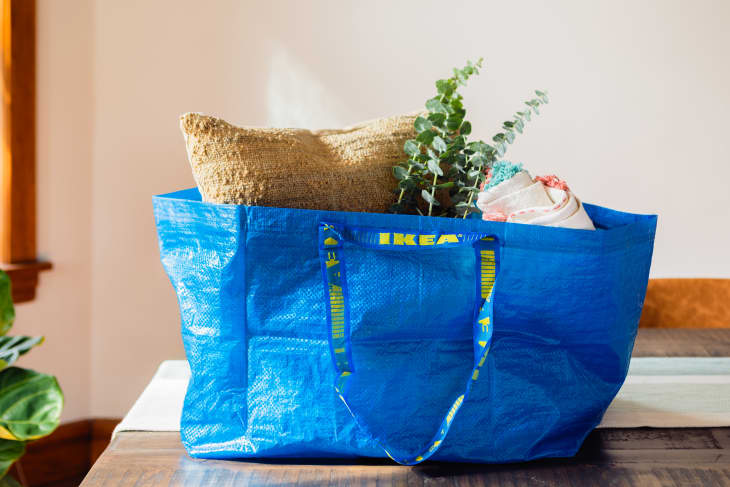 It was one year ago this week at the 2019 American Music Awards that Lizzo delighted on the red carpet with the teeniest tiniest Valentino purse; during her Vogue 73 Questions video, she showed off a larger version of the memorable accessory. But there's a new mini bag on the scene, from none other than IKEA.
A minuscule version of their iconic FRAKTA, aka the "hardest working bag in the world", KNÖLIG measures a mere 3 1/2 inches by 2 3/4 inches, but packs a lot of style into its small zippered pouch. Need some convincing? Look no further than Instagram.
One creator used the mini bag as an accessory for an outfit made out of full-size FRAKTAs.
It's perfect as a cat-sized crossbody tote.
For dolls, it's about the same scale as a large FRAKTA to an average human.
And here it is, attached to a backpack.
This isn't the first time FRAKTA has served as creative inspiration; the durable bag has been turned into everything from holiday stockings to <a rel="noreferrer noopener" href="Air%20Jordans.%20IKEA%20itself%20has%20given%20the%20staple%20item%20a%20few%20makeovers%20over%20the%20years,%20too,%20dressing%20it%20up%20with%20<a%20href=" https: target="_blank">rainbow stripes for Pride, giving it some color and pattern with HAY, and even making it into a bucket hat.