IKEA's Newest Collection Is Created By Refugee Artisans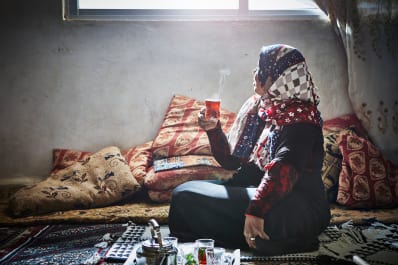 (Image credit: Courtesy of IKEA)
IKEA has been at the peak of their collab game lately, so it shouldn't come as a surprise that they have another batch of design goodies up their sleeve. This time around, the retailer has announced their new social entrepreneurship collection, TILLTALANDE, which coincides with World Refugee Day (June 20).
(Image credit: Courtesy of IKEA)
TILLTALANDE was created in partnership with the Jordan River Foundation to provide jobs for Jordanian women and refugee women artisans; tapping into their creativity and providing regular income, all while crafting beautiful handmade decor.
"It's about co-creating great designs while creating jobs for more than 100 women; equally divided between Jordanian locals and refugees, ending up with unique products that are affordable to many," said AnnSofie Gunnarsson, Partner Development Leader Social Entrepreneurs at IKEA of Sweden.
(Image credit: Courtesy of IKEA)
TILLTALANDE is a handmade collection of cushion covers and a virgin wool, Bedouin woven area rug, whose production incorporates traditional techniques and styles introduced by the women, along with the modernism that is IKEA.
"Weaving Bedouin rugs is a delicate art. I learned and inherited the craft from my mother. Every rug we weave is produced with passion and hard labor. It's an ode to our heritage," said Amneh Al Gawanmeh, weaver at Bani Hamida weaving center, Jordan River Foundation.
(Image credit: Courtesy of IKEA)
The pieces are absolutely breathtaking and have one-of-a-kind ingredients like hand-embroidered tassels and pom poms, bold pops of color, double-sided designs, and other elements that are symbolic to the women and their culture—like the camel print—ultimately creating a meaningful collection for all parties.
"The camel is very much related to our culture and to the Bedouin heritage. It's a very strong symbol–an icon," said Faridon Abida, designer at Jordan River Foundation.
IKEA's initiative has provided employment for more than 100 artisans, a number that is expected to double by next year, ultimately reaching 400 by the end of 2020. "The ladies have fantastic handicraft skills that they've learned from their mothers. Together we create products that are traditional with a modern twist," said Abida.
The limited edition TILLTALANDE collection is the first of many to come from the long-term partnership between IKEA and the Jordan River Foundation. TILLTALANDE will be available exclusively at IKEA Brooklyn.