Learn the History of the Land You Live On, and 5 More Ways to Celebrate Indigenous Peoples' Day
We independently select these products—if you buy from one of our links, we may earn a commission. All prices were accurate at the time of publishing.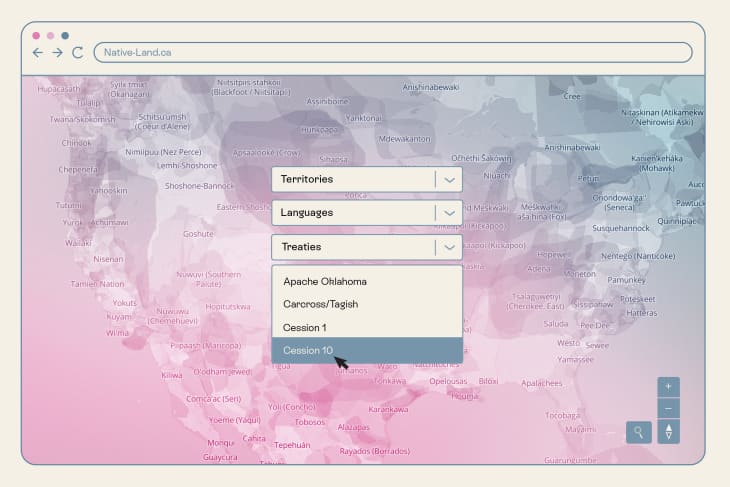 Many of the cities and towns across the United States have changed the Oct. 11 holiday to Indigenous Peoples' Day. Some big names still lag behind (looking at you, New York City!), but the question of how to celebrate IPD is becoming more common.

"Indigenous Peoples' Day is so important for many reasons," a representative from Indigenous Kinship Collective stated. "First, to counter the narratives that Christopher Columbus 'discovered' America and also to celebrate our vibrant communities that are still thriving and growing against all odds all over the so-called United States."
Here are some recommended actions to take on this day and every day: 
Know whose land you occupy
Native-Land.ca is an online interactive map that tells you the peoples who call specific areas their ancestral home, or who currently are based on the lands. For example, I live in a city known as Brooklyn, New York. After typing in this location into the map, the screen zooms in to Brooklyn and shows overlapping colors on the map that are labeled Munsee Lenape, Canarsie, and Lekawe which is also known as Rockaway. More information is provided through links and contact information, allowing for further reading and research. 
A majority of Indigenous people from all around the globe do not see the Earth as something to be owned. This concept came to fruition in North America after European contact, with many of these newcomers believing that acquiring as much land as possible equaled power. Many Native communities see themselves as stewards of the land, caring for the Earth so that generations that follow can also enjoy the benefits of beautiful sunsets and a day at the beach. 
Rebecca Luebker (Cherokee) is a teacher who finds ways to teach her students about the area that makes up Arkansas, which is occupied Osage land whose current name comes from the Quapaw. "I want my students to know they still exist and are thriving," Luebker says. There are many ways to incorporate historical and modern Indigenous knowledge into everyday life, but knowing whose land you walk on everyday is a great place to start. 
2021 has been a wonderful year for Indigenous writers and creators. When asked about how to celebrate Indigenous Peoples' Day this year, comedy writer Joey Clift (Cowlitz) mentioned the two Native-made television shows that are currently streaming, "Rutherford Falls" and "Reservation Dogs." 
Both are comedies that allow Indigenous characters to exist in contemporary settings, something that is new for the entertainment industry. Both series have incredible talents, like Jana Schimeiding who wrote on and stars in "Rutherford Falls," while "Reservation Dogs" is the brainchild of the Indigenous best friend goals known as Taika Waititi (Māori) and Sterlin Harjo (Muscogee-Seminole).  
Reading a book by an Indigenous author is also a great way to dive into our stories. For example, "Crooked Hallelujah" by Kelli Jo Ford (Cherokee) is a beautiful deconstruction of generational trauma and joy between the women in a Cherokee family, and "The Night Watchman" by Louise Erdrich (Anishinaabe) is a 2021 Pultizer prize winner and tells a historical tale that continues to influence modern day. 
There are so many more gifted writers, podcasts, filmmakers, and storytellers like Joy Harjo (Muscogee), Danis Goulet (Cree-Métis), Tommy Pico (Kumeyaay), Connie Walker (Cree), Chelsea Winstanley (Māori), Zacharias Kunuk (Inuk), and more.
Support Indigenous artists and designers
The creativity of Indigenous people all over the world is being shared with one another over the internet. From buying prints from painters to setting alarms so you don't miss your favorite beader's next drop, social media is a great way to connect with some unique items. 
Some of my favorite earrings I own are hand woven by Kylee Robinson (Cherokee-Muscogee) and utilize different natural elements including bloodroot for the dye and homegrown corn beads. Every time I wear these I get compliments, which gives me the opportunity to bring up the tradition of basket weaving and Native artistry. 
While some of these online jewelry sales are highly competitive, shops like EMME Studio and Urban Native Era create Indigenous-designed clothes for all seasons. Urban Native Era's website states they seek out spaces where Indigenous people are not usually seen and all of their designs are created with the intention for all to wear, so yes, non-Indigenous people can wear a hat that says "You are on Native land."
Research current Indigenous issues
Indigenous people and our histories are all different, yet we come together in solidarity to heal and celebrate our traditions and existence. Similarly, we come together to fight against injustices that various communities are facing right now.
According to the Indigenous Kinship Collective, all pipeline and climate justice fights that are Indigenous-led are important issues that need attention. "Demand that the police and governments stop criminalizing water protectors," an IKC representative said. "Force your local governments to honor the treaties that were put in place for our tribal sovereignty, this will help in stopping the extraction industry from continuing to poison the Earth and water."
On just this side of the world, several pipeline projects are targeting majority Black and Brown communities including Enbridge's Line 3, the Dakota Access Pipeline, Wet'suwet'en, and even the North Brooklyn Pipeline in New York City. These construction projects also have a direct tie to the Missing and Murdered Indigenous Women, Girls, Two-Spirit, and Tans crisis. "Get involved in all of these movements with your money, your connections, or your body (on the frontlines)," says IKC. 
Other issues that are specific to the United States include the ongoing fight against land sovereignty in Oklahoma after the McGirt v. Oklahoma Supreme Court case and the attack on  the Indian Child Welfare Act. Both of these nuanced pieces of legislation are dissected in a podcast entitled 'This Land,' hosted by Rebecca Nagle (Cherokee). 
These issues all surround the topic of land, which goes back to why it is so important to know whose traditional home you occupy. 
Indigenize your social media feeds 
Social media isn't only great for finding independent Indigenous artists to support, but also for learning about other people's experiences. Every Indigenous person brings a new perspective to everyday existence, depending on family, skills, and other factors. Following various Indigenous-run accounts is important. 
Sutton King (Menominee-Oneida) is an Indigenous advocate and co-founder of the Urban Indigenous Collective, a non-profit that supports Urban Native populations. She also co-founded a virtual service that provides "culturally tailored telemental healthcare for Indigenous peoples, by Indigenous peoples." King is constantly giving talks, posting important information, and utilizing social media spaces to reach Indigenous people in many places. 
Another great follow is Jeremy Dennis (Shinnecock), a photographer whose work focuses on the Indigenous experience who recently founded Ma's House. According to the website, Ma's House is a communal and safe space for BIPOC artists to create work, participate in artist residencies, and be offered a place to exhibit their contemporary work on the Shinnecock Indian Reservation. Dennis's work has been featured in various museums and his work with his local community only continues to grow. 
Want to rowdy up your day? Follow Regan de Loggans (Choctaw), whose posts are specifically curated to make their followers question the accepted norms. While much of their thoughts are available through Instagram, de Loggans has also written several zines on topics like 'Land Back' and 'Mutual Aid'. 
Indigenous Peoples' Day is every day 
Recognizing Indigenous peoples on Oct. 11 is a start, but listening and uplifting Indigenous voices year round is so important. "Indigenous Peoples' Day was never supposed to be the endgame," says Frances Danger (Muscogee-Seminole). She goes on to talk about the dark and intentional events that happened in this country including removal of many nations from their homes and forced assimilation.
"To us, Indigenous Peoples' day is every day," IKC added. "Having cities and towns recognize this as a holiday is an important first step on the path of educating the public about the true history of America and how it was founded on stolen lands and the attempted genocide of our people."