This Industrial-Strength Dust Mop Gets My 1,000-Square-Foot Loft Sparkling Clean
We independently select these products—if you buy from one of our links, we may earn a commission. All prices were accurate at the time of publishing.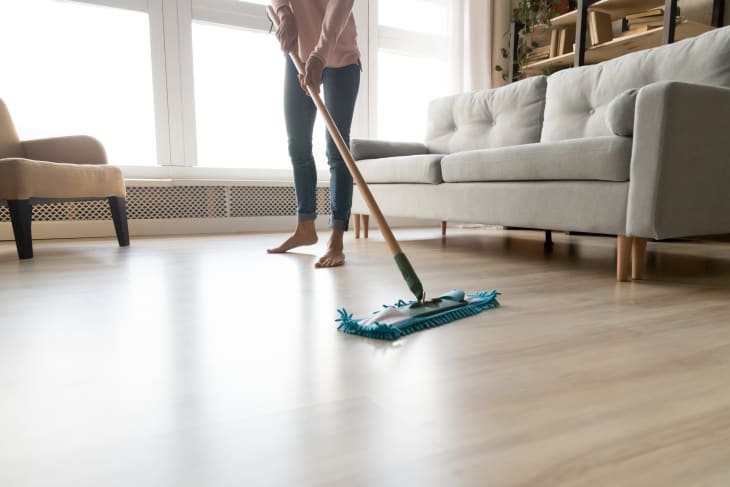 When I first moved into my 1,000-square-foot loft in Brooklyn, I anticipated a lot of new cleaning challenges: dusting in high places, more windows to clean, lots of time spent on a ladder. But once that very last box hit the floor on moving day, I had a realization. A standard broom was not going to cut it. And, an added bonus: We have white floors, so every speck of dust is pretty much visible from space.
Follow Topics for more like this
Follow for more stories like this
The secret to maintaining an industrial space is to have industrial-grade tools in your cleaning arsenal. While browsing through a menagerie of commercial dust mops on Amazon, I came across this beauty: a sturdy, visually pleasing dust mop for $39. 
The beauty of dust mops, specifically this one, is that the 30-inch-wide yarn head is designed to get even the smallest bits of dirt and mystery crumbs. She's kind to the planet too — you can hand-wash the head to keep it fresh and lasting a long time. Plus she's made with materials that are more sustainable than plastic: wood, metal, and yarn.
From the moment my package arrived, I was in awe of the aesthetic — the light wood handle and white yarn create a look that would mesh with the style of any home. We are a very neutral-toned household and sometimes I leave it out just to admire how well it goes with the decor (you know, definitely normal).
I was also excited about the premium, quality feel of the handle and the swivel capability — it's a breeze to pop this dust mop under your furniture to pick up dust bunnies as you make a pass of your floors.
What surprised me the most about this dust mop is how much time I save cleaning. Instead of spending forever on small chunks of floor at a time with a standard broom, I can have a spotless floor after gliding my dust mop around for a couple of minutes. It's a relief to my schedule and my lower back.
This powerful tool isn't just reserved for storefronts and lofts, either. I'd recommend this dust mop to anyone who has an open floor plan or a lot of exposed square footage, so you can spend less time staring at the floor and more time looking up to enjoy your space!