Inside Out: Jack's Really Small Home
We
independently
select these products—if you buy from one of our links, we may earn a commission. All prices were accurate at the time of publishing.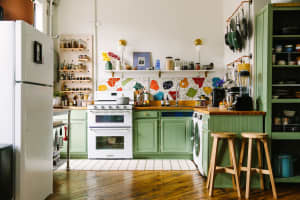 Can't-Miss House Tours Straight to Your Inbox
Keep up with our latest house tours each weekday with our House Tour of the Day newsletter
Inside Out: A showcase for those who transform their residences into homes via innovative intervention
Name: Jack
Location: Times Square
Size: 160 sqft. rental
Favorite Element: R2D2 jar

Jack is an artist/musician who won the jackpot 5 years ago when he was called off the waitlist for the Times Square Hotel. It is an SRO (single-resident occupancy) run by a great non-profit housing developer called Common Ground.
Common Ground took over this mid-town building to provide low cost housing in Manhattan for the formerly homeless, as well as low-income artists, actors, and dancers. The building has public amenities such as a piano, a dark-room and a huge roof deck, but Jack's apartment is only 10'x16′!
When Jack first saw the space, he said "no way, it's just too small. I can't even get my bike in here." Now, 5 years later, he has learned lessons of minimalism, organization, and priority. "I have enjoyed doing without so many of the things we all think we need. I think my apartment's content reflects that," explains Jack.
Jack acknowledges that to live in such a small space, it's helpful to "find beauty in one particular thing". If Jack buys a t-shirt, he has to weed out the old, unwanted ones before the new one will fit into his space.

In the early 90's, Jack partnered with another artist to form Pruitt-Early. After a number of successes, they had a show at Leo Castelli that failed due to a misunderstanding. "I dropped out of the art and world and joined a rock band. I lost every thing after that show but found I could live without all the clutter that life often brings, and that I could write music." This year, Jack has returned to the visual arts. He is going to use his shower as a studio in which to build paper mache sculptures.
Years lived in: 5
Inspiration: treehouses and houseboats
Favorite Room: there is only one room
Most embarrassing: no bathroom door
Proud DIY: built the shelves
Found Treasure: found my bed on the street
Had Forever: my guitar
Most Talked About Element:that it has a feeling of openness
Just Got: a filing cabinet
Never Live Without: a coffee grinder
I am the most comfortable in: the only room
I change the sheets most frequently.
Right now, I'd most like to update: my laptop
My favorite piece of furniture: my Danish valet
I am the most proud of: the shelves I built based on Donald Judd's sculpture
My favorite home resource is: LeCorbusier
Best home-related advice I've ever gotten: Rome was not built in a day, better to do without than to store
Best home-related advice I've ever given: less is more
I most enjoy looking at other people's homes because: I like to see how they decorate
Three words to describe my home: come on in
To hear some of Jacks music written with kids in mind visit http://www.myspace.com/walterjacksonearlyjr
Jack Early is represented by E31 Gallery in Athens Greece. For information about his work contact e31art@otenet.gr


Originally Posted on July 26th, 2006