Shop the Best Looks from Interior Define's Instagram with This Exclusive Discount for AT Readers
We
independently
select these products—if you buy from one of our links, we may earn a commission. All prices were accurate at the time of publishing.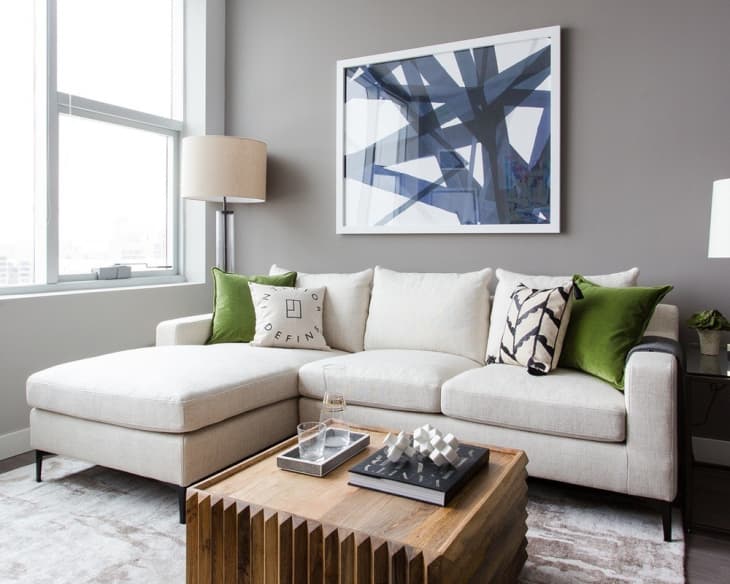 Springtime is the season to make big home changes and invest in larger furniture items—it's that "out with the old, in with the new" vibe in the air. You don't need a lot to refresh your space in small, subtle ways, but if you're ready to commit to a piece of quality furniture, allow us to direct you to Interior Define.
It's no secret that we're huge fans of Interior Define here at AT–our Founder Maxwell Ryan has even collaborated with them on two sofa designs. Their inventory is smaller compared to bigger retailers, but it's comprised of well-made investment pieces like sofas, beds, and chairs. Every item is 100 percent customizable, from the fabric choice down to the legs, and is made to order. Notably, Interior Define is also especially customer-friendly, with 100-day returns, free delivery, and even payment plans to make every part of the process as worry-free as possible.
Ready to experience it for yourself? Interior Define is now offering Apartment Therapy readers $200 off any Maxwell Ryan collection order over $1,500 with code ATxID200, now for a limited time. If you need more time before you make a commitment on any color and fabric choices, fear not: Interior Define lets shoppers choose the option to "buy now, decide later." That means you can take advantage of the discount but also order as many free swatches as you want while you make up your mind. 
To give you a better idea of what Interior Define's pieces look like in real homes, we rounded up some of our favorite Instagram posts from their feed. Check out our picks below, and view all of their collections here. 
The Deal: Get $200 off any Maxwell Ryan sofa orders over $1,500 when you enter ATxID200 in the promo code field at checkout. This promotion runs through March 28, 2019. Discount cannot be applied after purchase.
Designed by our Founder and CEO Maxwell Ryan, the Maxwell is a low, deep sofa that's pretty much engineered to be the perfect nap spot. The contoured arms and turned legs give it some elegance, while the sunken shape keeps it approachable. It also comes with two matching lumbar pillows, guaranteed to make this the coziest spot in your home.
One of the most popular Interior Define sofas, the Sloan is a sleek-meets-comfortable classic. With a medium height and depth, it's a versatile choice for your space. The sectional model above is better for large rooms–the smallest size is 96 inches and goes up to a massive 112 inches–but there are several other variations you can choose from. The Sloan Apartment sofa is best for smaller spaces, and the Sloan Sleeper was featured on our Best List of sleeper sofas. You can also add an ottoman to make it even cozier.
For a more elegant look, you can't go wrong with the Tegan sofa. The curved back and arms give it a low profile, but you can easily amp up the drama with the right upholstery choice. Going for a red velvet fabric turns the Tegan into a major statement piece, while the basic gray cloth fabric makes it more laidback and comfy. Keep your space simple by keeping the wall behind it plain, or fill it with bold art to really emphasize the unique shape.
Interior Define is known first and foremost for their sofas, but the rest of their collection deserves recognition too. These dining chairs are a modern complement to the more traditional wood dining table, and can be as luxe as you want (check out those brass legs). Although it lacks arms, the curved back wraps around a bit to provide support–the whole design was inspired by kites, and the finished look is clean and seamless. 
With a soft silhouette and tapered headboard, this bed is a cozy haven. In the age of self care and the season of staying in, the Harper bed is pretty much what dreams are made of. Pair it with breezy white bedding and lots of bright throw pillows, as seen above, or let the bed itself stand out on its own by choosing a dramatic color.  
Note: A previous version of this article stated that this offer code could be used on any purchase over $1,500. This has since been corrected. The offer code can only be used on purchases of the Maxwell Ryan sofa.