This New Airplane Seat Promises to Make Air Travel Way More Comfortable
We
independently
select these products—if you buy from one of our links, we may earn a commission. All prices were accurate at the time of publishing.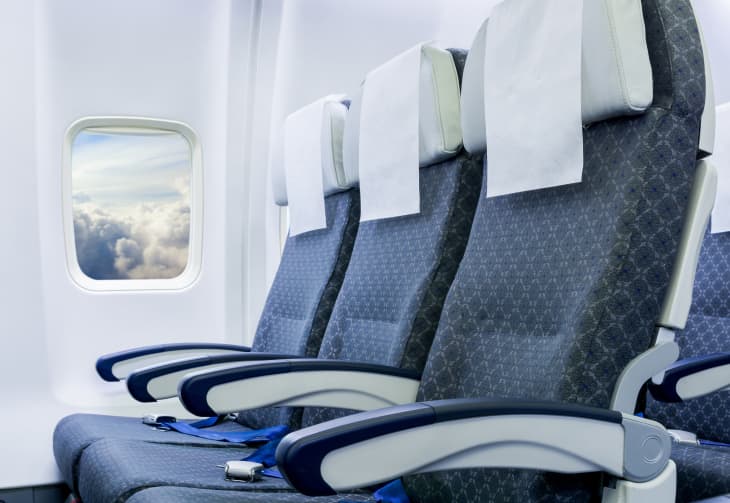 If you traveled by plane this holiday season, you have fresh memories of just how uncomfortable airplane seats can be. Not only is there little leg room, but your position is limited to sitting up bolt straight, slightly reclined, or in some horrible curled-up, goblin positions you cycle through in attempt at finding a bit of comfort. That's why one company has developed a new kind of airplane seat that promises to bring comfort to coach.
The new seat, called Interspace and created by U.K. design studio New Territory, can fit into the footprint of existing airplane seats. Its revolutionary feature is a back cushion split into two part, each of which can be opened to create a side panel you can lean against for extra comfort.
"When we travel, [our team members] always keep our eyes open," Luke Miles, New Territory's founder and CCO, told Fast Company. "I've watched people stuffing cushions between their seat and the side wall, to create some sort of support mechanism . . . we were like, 'Okay, this is something that needs to be addressed.'"
Interspace's cubicle-style design is already becoming common in first and business class, explains Fast Company, but hasn't yet made its way to coach. The side panels are joined by other ergonomic benefits, according to Miles, including softer arm rests that don't dig into the hip and kidney area. The traditional airplane headrest has also been removed, which gives you more freedom to customize your head support with a neck pillow or blanket.
Overall, the design aims to allow passengers to sleep more comfortably, "in a posture approaching the fetal position," as Fast Company puts it. But do the panels, when folded up into the seat back add extra, uncomfortable volume? Not according to Miles. "There's a void in most seatbacks, and a lot of unused volume," he said.
For more information about Interspace, see the original article on Fast Company. Here's hoping the new decade brings more comfortable air travel.