This Mirrored Tiny Cabin Disappears into Its Surroundings
We
independently
select these products—if you buy from one of our links, we may earn a commission. All prices were accurate at the time of publishing.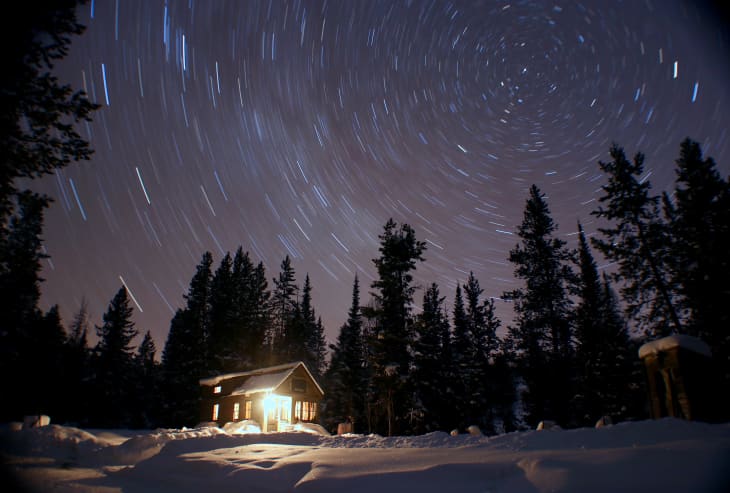 Now here's someplace travelers can go off-grid and disappear, quite literally.
In Tennessee, a glamping property called the Bolt Farm Treehouse features cabins that, at first glance, appear to be invisible. Said to be the first of their kind in the U.S., the accommodations have a glass facade that creates the illusion of invisibility, allowing guests to closely observe animals roaming the surrounding forest.
"The visually stunning architecture blends perfectly with nature, providing a fully immersive experience like no other," said Bolt Farm Treehouse Co-Founder Tori Bolt.
The cabins were built using mirrored glass panels, which not only provide privacy from curious onlookers, but also provide protection from the heat, as their material reflects 97 percent of UV rays. In addition, while the glass is invisible to the human eye, it is visible to wildlife, ensuring that no birds will get hurt by accidentally flying into the walls.
And though the property is remote, each of its five cabins has modern amenities like a queen-sized bed, air-conditioning, high-speed internet, heated floors, a rainforest shower, a fully-equipped kitchen, and a movie theater. Outside, there's a patio with a seating area, a smokeless fire pit, and even a hot tub.
Bolt Farm Treehouse's glamping grounds are so nice, they were even featured in Netflix's "The World's Most Amazing Vacation Rentals."
"It's about reconnecting, laughing and losing track of time on top of the world in a magical, inspiring, socially distanced environment," added co-founder Seth Bolt. "This is guaranteed to lift your spirit and create cherished memories that will last a lifetime."
You can book your stay at the property here.