Iris Apfel Explains the Problem With Design Today
We
independently
select these products—if you buy from one of our links, we may earn a commission. All prices were accurate at the time of publishing.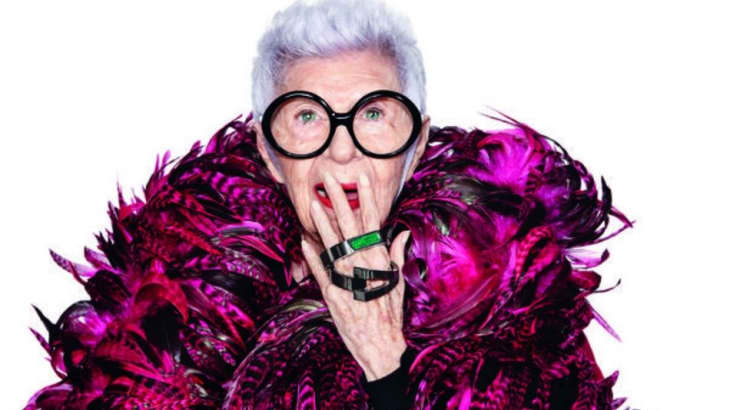 When decorating your home (or when doing anything, really), it can be easy to fall into the trap of perfectionism. Interior design and fashion icon Iris Apfel has an important reminder: Perfection is boring, and mistakes with personality are better than generic design.
Architectural Digest interviewed Apfel recently about her new glassware collection for Nieman Marcus. (It's called Nude Glass, and its pieces are full of personality, particularly the sold-out paperweights shaped like Iris Apfel herself.) When the magazine asked her for her top home-design tip, here's what she had to say:
"I think the problem with design today is that it's too generic. I think everybody looks alike today with what they wear, and everybody's houses do too. I'd rather see some mistakes, but some personality. I like to walk into a house and know you live there. Not just walk in and have it look like a thousand-dollar hotel room. But I don't give advice. It's not my business."
Apfel has shared plenty of wisdom throughout her 98 years, including in her book Iris Apfel: Accidental Icon, which came out last year. In this excerpt, shared on CNBC, she talks more about resisting generic perfection and embracing your personality and preferences:
"I never tried to fit in. It's not that I went out of my way to be a rebel or do things that were not socially acceptable — unfortunately, I did have to learn how to play bridge when I was younger — but I learned early on that I have to be my own person to be content.
"If you have to be all things to all people, you end up being 'nothin' to nobody.′ The way I dress may be 'different' or 'eccentric' to some who feel the need to label, but that's of no concern to me. I don't dress to be stared at; I dress for myself. When you don't dress like everyone else, you don't have to think like everyone else."
Next time you worry about styling your home (or yourself) the "right" way, remember Iris Apfel.