Irwin's "Timeless" & Art-Filled Studio
We independently select these products—if you buy from one of our links, we may earn a commission. All prices were accurate at the time of publishing.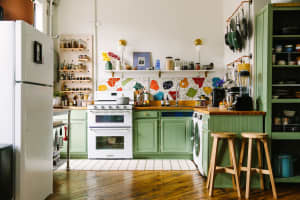 Can't-Miss House Tours Straight to Your Inbox
Keep up with our latest house tours each weekday with our House Tour of the Day newsletter
Name: Irwin
Location: Washington, D.C.
I live in The General Scott in Washington, DC. The building was built in 1941 in the Art Deco style. After renting for almost 8 years, I finally bought my condo from the owner in 2014. Kitchen renovation was completed in 2015. My unit is a junior one bedroom and is about 495 square feet. Technically it's a studio, but it's called a junior one bedroom because there are french doors that separate the living room and sun room (my bedroom-where the only window is located in the unit). The rooms that composed the original layout were: entry vestibule, living room, sun room (bedroom), kitchen, dressing room and bathroom.
With so many rooms, the space felt smaller than the 495 square feet. To make the space more cohesive, I removed the wall between the kitchen and dressing room and expanded the openings to these two areas to the living room. With the wall down, movement in my apartment is now circular around my studio versus one directional horizontal/vertical movement to access the kitchen and dressing area, as was previously dictated by the old layout. My studio now feels larger.
I used the new IKEA Sektion cabinets to create a galley wall to house the kitchen, pantry, closet and home office functions. The galley wall runs the length of the west wall that previously housed the kitchen and dressing room. The galley wall is in white to make the cabinet doors disappear. I used a walnut finish at the upper cabinets to visually anchor the kitchen area (stove, oven and sink) in the galley wall.
Since I live in a studio, I wanted the kitchen to feel like a wet bar when not in use. I hid as much of the appliances as possible. I used a small panel-ready 18" wide dishwasher and 24" wide refrigerator/freezer. With a little research and coordination, I found the 24" wide refrigerator/freezer that fit in a standard IKEA tall cabinet. No custom millwork was needed, standard cabinet doors were used as the panels for the appliances. My "home office" is hidden in the galley wall as well. I designed a laminate top that sits on top of small drawers to create a work surface at desk height when pulled out. Using standard IKEA drawers and doors, the lower doors open to allow two small drawers to pull out and create a work surfaces for my laptop and desk. When not in use, everything slides back, doors close and my office becomes part of the galley wall again.
The new floor of the galley area is 12×12 cork tile, as I did not want the coldness of a ceramic tile. The cork affords visual warmth and cushion underfoot that a ceramic tile could not provide. The cork also compliments the existing oak parquet flooring in the rest of the studio.
My taste is very eclectic as I like to mix and match styles for a cohesive look based on scale, line and texture. This allows me to have a space that is "timeless" and not what I call a "Page 42 Design" (explained below)
I mixed a Chesterfield sofa with a vintage Knoll Stephens Lounge Chair and vintage Knoll Platner Rosewood Side table. My guest chairs are the classic navy Emeco chairs that double as dining chairs. My coffee table is Tom Dixon's Screw Table that rises from coffee table height to dining height that can comfortably seat four. Under the table are three round low stools that act as additional seating and enable me to pull them towards the sofa to use as a side table or use as a foot stool. The main light in the living room is the large ceiling hung Artemide Tolomeo that is adjustable up/down to when the coffee table rises and also allows the light to be used around the sofa and lounge chair for an additional reading light.
Since I have a small space, I didn't want the TV to be the center of attention on my credenza. I wall mounted the TV and offset it from the credenza so it disappears amongst the art in my salon wall. My DVD player and electronics are hidden in the top drawer of the credenza. The credenza was a flea market find that I cut the drawer front and added hinges to allow the top drawer to flip down to allow me to use my remote controls. When I'm not watching TV, I just flip the drawer back up to hide the electronics and the credenza looks like a credenza once again. Everything out of site.
I hung all my art pieces in a salon style, as I had so many. They're a mix of my own artwork, friend's artwork, photographs, found objects and highlights of my collection of Olympic memorabilia, vinyl action figures and original comic book art. I also have a tall display cabinet that houses my glassware and my collection of miniature souvenir buildings. The salon "wallcovering" and tall cabinet give my guests a little peek into who I am. Instead of moving the furniture seasonally, I curate my art pieces.
There's nothing worse than cookie cutter design, which I like to call "Page 42 Design"…as in "I'd like to decorate my space with EVERYTHING on page 42"…There's nothing wrong with that, as long as you accessorize the space with personal items that make you happy whether it's original art, found objects, something that's quirky. When people visit your home, it should feel like you. When friends visit me, the best compliment I can get from them is that my space is "ME" and for my new friends it invites conversation to know a little more about "ME".