Watercolor Typography, Devotional Neon Lights, 3D Calligraphy: Here's How the Pandemic Has Affected Islamic Wall Art
We independently select these products—if you buy from one of our links, we may earn a commission. All prices were accurate at the time of publishing.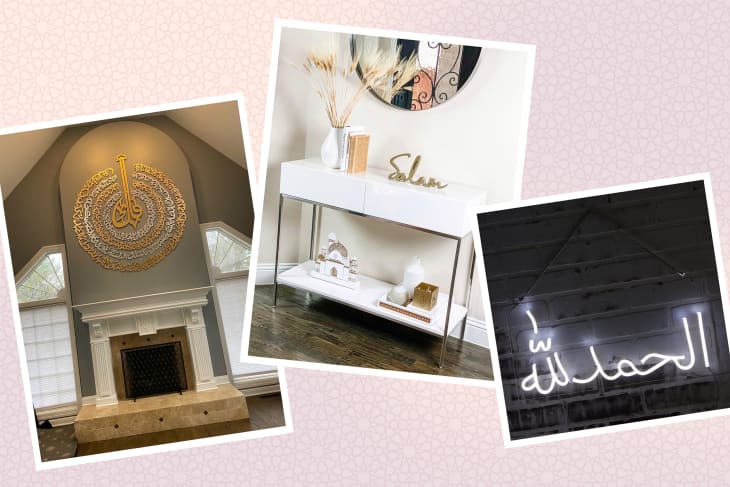 Before the pandemic, it'd be fair to say Islamic wall art options were fairly limited. Sure, you could find framed prints, but the colors and motifs skewed traditional. If you were searching for something statement-making in scale or material — say a Quranic verse crafted out of LED lights — it wasn't so easy to find. With more people staying indoors over the past year though, examining their bare walls and searching for decorations to fill them, many American Muslims — myself included — went looking for something different.
Follow Topics for more like this
Follow for more stories like this
Fortunately, several Muslim makers have used this time at home to pivot creatively in their design work, producing a new crop of modern calligraphy, inspirational typography, and other Islamic wall art designs in new materials and lighter, brighter palettes. Variety has become a mainstay, and pieces, from watercolor sketches to 3D metal signs, can be found at all different price points and in more design styles than ever before.
Why walls? For starters, they're often the largest, most uninterrupted surface in a home, so filling them with personal pieces makes a big decorative impact. According to Illinois-based Taaha Rahman, blank walls are also the easiest thing to customize with Islamic motifs, since all you have to do to enjoy your chosen design is hang it up in a prominent place.
"I went with a modern Islamic style since it has a light and airy feel to it compared to the more heavy traditional options," says Rahman, who recently purchased a piece of calligraphy and appreciates the work that went into making it every time she sees it. "Arabic calligraphy takes a technique that requires skill, patience, and practice," she adds.  
According to Lail Hossain, founder of With A Spin, an Islamic outlet for gifts and decor, this shift in Islamic wall art also speaks to a general demand for more visually soothing decor. Homes are havens, and for many Muslims in particular, the pandemic has reinforced the importance of creating serene corners furnished with design elements in quiet colors.
"People are trying to dedicate and create calm prayer spaces where you are drawn to connect with Allah (God) rather than experiencing a sensory overload," Hossain says. To that end, Hossain stocks Islamic watercolor calligraphy prints in soft pastel shades as well as typography designs. She also sells lanterns and lights for creating a soft ambiance in prayer corners.
Syed Rahman, founder of Modern Wall Arts, thinks Islamic artwork can also be comforting by serving as a reminder of blessings. "Islamic art is so unique, and each piece can have a spiritual meaning that will resonate differently to certain people," says Rahman, who sells 3D calligraphy wall hangings made out of wood and stainless steel.
What's particularly striking about his pieces is their size; some designs are as large as several feet tall and wide, totally shattering the notion of what traditional Islamic wall art looks like. His metal designs start at about $100 and go up to the thousands, but they're the kind of timeless pieces that you can pass onto future generations.
Lena Sarsour and her husband, Akram Abdallah, co-founders of Nominal, a company that had previously focused more on fashion, changed their store's offerings late last year to respond to customer demand. After noticing how many home decorating and remodeling projects people were sharing, the couple and their team developed a collection of neon wall signs that can be hung both indoors and outdoors.
These signs provide a way for Muslims to merge a Pinterest-popular trend with elements of Islamic faith. The collection includes words like "Alhamdulillah," which means "All praise is due to God," as well as "patience," and "love" in Arabic. "We felt that this was a good opportunity to help add not just a decorative piece to your walls but a piece with meaning and that serves as a positive reminder each time you step foot in the room," Sarsour says. 
Nominal's neon signs also include the shapes of many Muslims' homelands in Africa, Syria, India, Egypt, Lebanon, and beyond. "We feel that it is important that everyone, especially the youth, is reminded of and are proud of their identity — where they're from, their language, and their culture," Sarsour adds. There's also the option for shoppers to customize signage in Arabic, too.
Framed pieces used to dominate Islamic wall art, but Muslim makers have innovated with new materials, color palettes, and scale to produce more options than ever. Now it's possible to decorate your home with modern designs that are still rooted in tradition.