Looking to Start a Business? This Italian Village Will Pay You $50K to Move There and Go For It
We
independently
select these products—if you buy from one of our links, we may earn a commission. All prices were accurate at the time of publishing.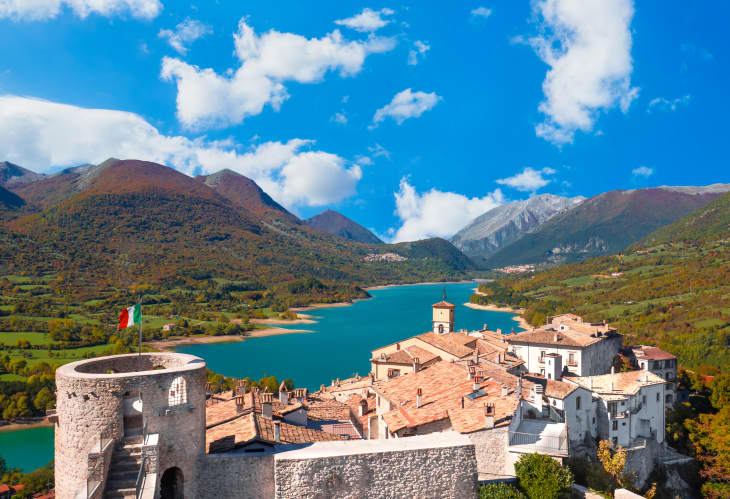 Moving to a charming hilltop village in Italy and starting a new life sounds like something out of a Diane Lane or Julia Roberts movie, but one medieval village is making it a reality. Santo Stefano di Sessanio, a walled village in Abruzzo, a region on the eastern side of central-southern Italy, is offering an incentive for foreigners to move and start a business there, serving up payments of around $50,000 for those who are selected to move in.
Mayor Fabio Santavicca told CNN Travel that the mountainside village only has 115 residents, with the number of year-round residents is between just 60 and 70. Fewer than 20 of those residents are under 13 years old, which means real concerns for the region's future economy. The town council is looking for new Italian residents under the age of 40 to help revive the area, provided you can follow some of the guidelines for starting a business.
Here's the scoop: Current or prospective future residents of Italy, EU citizens or those in possession of the right to remain in the EU for an indefinite period, can apply, provided that they're coming from an area of more than 2,000 residents—Santo Stefano does not want to take residents from other small communities.
Those who are selected will be given a place to live with a "nominal" rent, with the town council offering new residents a monthly fee of up to a maximum of €8,000 ($9,500) per year for three years.
You must commit to staying in town for at least five years, with Santavicca sharing that there will be some "restrictions" enforced to ensure that people don't stay for a year and take the money.
And you'll have to commit to starting a business, with those selected receiving a one-off contribution of up to €20,000 ($24,000) to help get things going. They're looking for specific roles, including guides, staff for the information office, cleaners and maintenance workers, drugstore owners, or those who can work with, and sell, the area's food, per CNN Travel.
As for what life is like in Santo Stefano, you'll live 1,250 meters above sea level within the Gran Sasso e Monti della Laga national park, around a half hour away from the nearest large town, L'Aquila. It's a 90-minute trip to the nearest airport, as well as to the Adriatic coast, and two hours to Rome. "It's a pretty programmed life because it's not like you can say, 'Oh I forgot to buy parmesan, I'll nip back out'," Santavicca told CNN Travel. "And we're at the base of the mountains—at 4,000 feet—so in winter it's not always easy to get around with snow and ice."
"However there's a sense of tranquility, you live in a self-sufficient way and go back to your roots," he said. "There's none of the chaos of big cities, and you can save more of your own free time. I live really well here. There's good air, and right from the moment you wake up there are incredible views that really lift your spirits and give you a reason to go to work."
The remote town was devastated by an earthquake in 2009 and is still rebuilding, thus the need for some new life. "We're not selling anything to anyone—this isn't a business move. We just want to enable the village to continue to live. To bring Santo Stefano back to life, and to give it a new life, more economic and social force, we need younger people. We have a sense of civic duty that's pushing us towards this."
Launched October 15, the program has already received around 1,500 applicants, with the town council hoping to add around 10 people (or five couples) to start. "We want to ramp numbers up gradually, and we have to work with the housing that belongs to the authorities," said Santavicca.
Looking to start anew in an idyllic rural Italian village? Check out all the details and apply via the council's website until Nov. 15.