This 1970s Mushroom-Shaped House in Italy Is for Sale
We independently select these products—if you buy from one of our links, we may earn a commission. All prices were accurate at the time of publishing.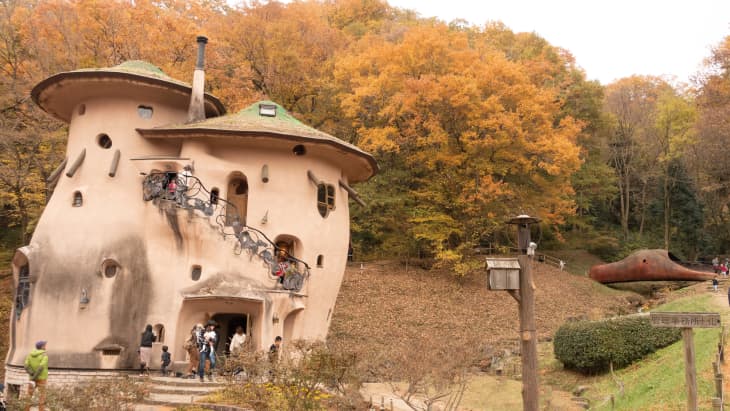 Cottagecore meets fairycore meets Smurfcore at this iconic property for sale in Bardineto, Italy. Located about 70 kilometers away from Genoa, Bardineto is home to "Il Villagio dei Puffi" ("Village of the Smurfs"), a small grouping of mushroom-shaped houses built in the 1970s by Mario de Bernardi. And one of de Bernardi's iconic homes is currently on the market for a total steal when compared to U.S. housing prices. 
Follow Topics for more like this
Follow for more stories like this
You can live like the Smurfs in this funky abode in the middle of the woods for just over €109,000 (about $118,500).
"IT'S THE HOUSE THAT GRANDPA SMURF BUILT!" the caption on a Cheap Old Houses Instagram post reads. "(And as my friend John just said, it must be a MAGIC mushroom, because I'm still tripping after looking at it!)"
According to the listing, the fairytale house is fully planted in reality — it has a small but complete kitchen, two bathrooms, a fireplace, a wood-burning oven, a cozy living room, and a second-floor lofted bedroom. There's also a backyard patio and barbecue area as well as a detached wood shed that could be converted into a small studio or workshop.
Plus, the house is set on a 1.5-acre lot, so you can be surrounded by peaceful, quiet nature. "For those who love tranquility and dream of being able to live in a fairytale village, this is an unmissable and unrepeatable opportunity!" the listing reads.
But, buyer beware: Il Villagio dei Puffi does get quite a bit of foot traffic from visitors who want to see the Smurf Village up close. Although the homes are privately owned, residents have reported it's not uncommon to see tourists wandering around.
You could always give the people what they want and don a white hat and blue face paint. You may just become a local legend.