Peek Inside Jay-Z's Los Angeles Office Space
We independently select these products—if you buy from one of our links, we may earn a commission. All prices were accurate at the time of publishing.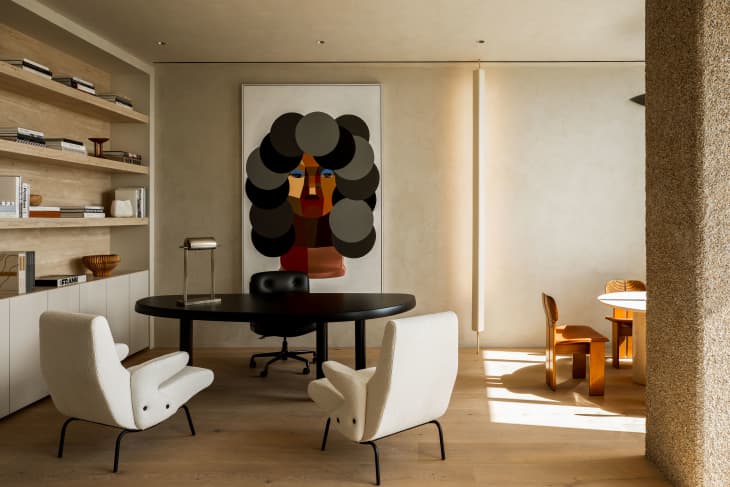 Jay-Z may famously have 99 problems, but finding a suitable place to get some work done isn't one.
Follow Topics for more like this
Follow for more stories like this
The hip-hop icon and entrepreneur opened up the Los Angeles headquarters of Roc Nation to Architectural Digest, and the zen retreat is quite the contrast to the loud, flashy New York City-vibe the rapper (real name: Shawn Carter) is instantly associated with.
The space was designed by Willo Perron, with whom Jay has worked for over a decade. He's known for creating stage sets for everyone from Rihanna and Kanye West to Lady Gaga, and Florence + the Machine, but the peaceful offices are the furthest thing you'd imagine from a booming entertainment company. But that departure was actually a conscious decision.
"I didn't want it to feel like a caricatured media or management office, with music blaring and video screens everywhere. I wasn't interested in that kind of sensory overload," Perron told AD. "I wanted to do the opposite, to create a zen environment conducive to ideas and conversation, a space where you can actually think."
Instead of a flashy ambiance, a minimalist aesthetic reigns supreme. Chunky marble counters are featured in the central meeting/dining/entertainment zone, while concrete benches and serpentine banquettes sit alongside columns and accent walls covered in a pebbly lime plaster aggregate. You'll find diverse textures of leather, plaster, and oak in a conference room. The "combination of brutalism and beauty," is a nod to Perron's hometown of Montreal. 
In the open office areas, custom-designed workstations are a  blend of minimalism and technology, with both standing and sitting desks dotting the space. In the executive wing, concrete floors transition to Dinesen heart oak as a monochromatic palette provides a sense of luxury. The reception desk for the executive suites has the same style of accent wall sheathed in lime plaster aggregate, and the lounge's stylish coffee bar features Calacatta viola marble. The dining/meeting area features curved banquettes and chairs with lush plants holding court.
 In Jay-Z's private office, the "tailored, residential vibe" is filled with design jewels, like a Charlotte Perriand desk, a Marcel Breuer lamp, and seating by Oscar Niemeyer, Erberto Carboni, and Afra and Tobia Scarpa. "We selected pieces that tell the story of modernism as it evolved through the decades in different places. The Rick Owens chair brings the mix up to the present day,"said Perron. On plaster walls and glass enclosures, art by primarily African American artists hang. There's also a media room with custom cocktail tables that are covered in rust-colored mohair.
"He's given me lots of freedom to explore and develop concepts that I find intriguing. The only boundaries I had for the office were the number of desks and offices. Beyond that, they trusted us," Perron said.
It may not be what you'd instantly expect from the man behind "Empire State of Mind," but it seems Jay has mastered the Los Angeles way of life. 
"We wanted something less predictable," Perron explained. "This felt more experimental and more appropriate for L.A. It's all about the vanguard of culture."