Soon You Might Be Able to Cook with Drew Barrymore and Jennifer Garner
We
independently
select these products—if you buy from one of our links, we may earn a commission. All prices were accurate at the time of publishing.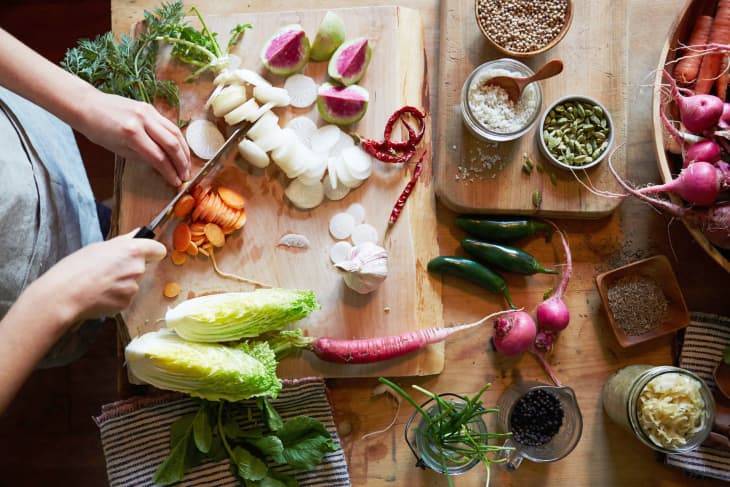 If celebrity cooking content has been getting you through the first (and hopefully last!) year of the pandemic, you'll probably be thrilled to hear that two of Instagram's favorite foodies, Drew Barrymore and Jennifer Garner, seemingly have some big plans in the works.
Both actresses recently hinted at exciting new projects they might have in the pipeline for the year ahead, and if they come to fruition, you'll be able to cook their favorite recipes at home.
Barrymore has no shortage of things on her plate these days, but it seems she's looking to add another new title to her impressive resume: cookbook author. The self-described "cookbook fanatic and collector" loves cookbooks so much, she shared last year that she reads three of them each week "cover to cover," adding, "not just for the recipes, but also for the stories about how the authors find their inspiration. In every cookbook there is one recipe that will change your life." She even has a full cookbook closet with her favorites on display, so fans might not be entirely surprised to learn she might have one in the works herself.
In a recent interview with People, the talk show host hinted that she "might be" working on a cookbook of her own alongside her chef pal, Pilar Valdes. She told the magazine, "Cookbooks are like school books for me, and I read them front to back. I love the stories. I love learning a technique."
Though she didn't give away any further info, she shared that her mom was a "California vegetarian from the 70s" and Barrymore "still [eats] that way predominantly today," so fans will probably expect some robust plant-based recipes and meal ideas from the duo.
In a recent interview with The Hollywood Reporter, Garner revealed that there have been "a slew of industry requests" to make the pretend cooking show into a real series — and while she didn't divulge if she actually plans to make it happen, we wouldn't be entirely surprised to find out she's cooking up big things behind the scenes.