Jen's Bright and Happy Austin Abode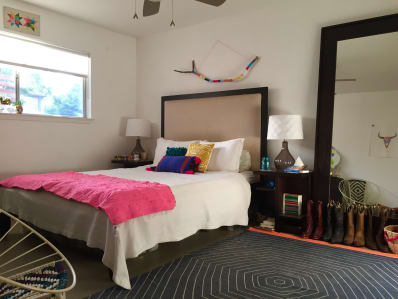 (Image credit: Submitted by Jen)
Name: Jen
Location: Travis Heights neighborhood, Austin, Texas
My best friend Marina moved to Tel Aviv to study abroad for a year, so I moved into her house. She moved out all of her stuff (except for a fabulous orange couch), and it's been really fun to make the place feel like my home by putting my own personality and style into it. Because it is a temporary space, I put a lot of work into it at the beginning so I could get settled in quickly. Also because it's temporary, I can take a lot more chances and do fun things that I think has made the house feel very playful.
(Image credit: Submitted by Jen)
I like it to feel bright and happy so there are lots of fun pops of color — you'll notice a lot of pink and it's been fun using that color without it feeling like a little girl did all the decorating. I have lots of plants; my boyfriend calls me a crazy plant lady because I'm always coming home with new plants. I'm also always redecorating, moving around artwork and pillows, changing up pieces. I have a few display books, that I also change up depending on what's inspiring me. I also love working on little DIY projects.
(Image credit: Submitted by Jen)
My favorite things in the house:
All my plants
My hanging chair that I found on eBay
All my blankets that make it easy to cozy up
The lights I put up in the sun room and backyard, makes the place feel sparkly and magical at night
The chalkboard roll down map in the dining room. I also love the dining room table because it has fold down leafs that help us make the best use of that space. When we have guests over, we can just pop it open into a full sized table.
The vintage arrows in the guest room
I love having a sun room where I can sit in peace in the morning light and have my coffee.
(Image credit: Submitted by Jen)
My favorite DIYs:
Everything I've ever spray painted gold or copper, which is a lot of things. But especially the dinosaurs that lived in a previous Christmas tree that have found homes in unexpected places around the house
The colorful yarn covered branch hanging in the bedroom
My outdoor dining set that is an unfinished door. I used chalkboard paint on one side so that I can use it as a menu board when people come over and can see during cocktail hour, and then add Floyd legs to the door to turn it into a table. I painted each chair for that table a fun color, so the whole dining set makes me so happy and ready to share food with friends.
(Image credit: Submitted by Jen)
(Image credit: Submitted by Jen)
Jen mentions that the space is 900 square feet, and that she's been in the space for nine months so far. Thanks, Jen!
• Interested in sharing your home with Apartment Therapy? Contact the editors through our House Tour & House Call Submission Form.