Jill & Chris' Refreshing Prairie-Style Craftsman Home
We independently select these products—if you buy from one of our links, we may earn a commission. All prices were accurate at the time of publishing.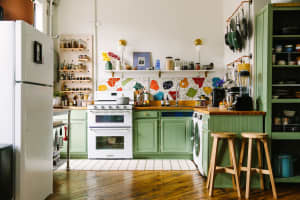 Can't-Miss House Tours Straight to Your Inbox
Keep up with our latest house tours each weekday with our House Tour of the Day newsletter
Name: Jill Dudones & Chris Campbell
Location: Berwyn; Chicago, IL
Size: 3,225 square feet; 5 bedroom, 2.5 bath, 2.80 lots
Years lived in: 2 years; Owned
The up-and-coming neighborhood of Berwyn, Illinois is filled with beautiful, historic Chicago-style bungalows. But among them is a special home, a Prairie-style Craftsman house designed by the famed architect George Grant Elmslie, that is unique in its beauty, scale and architectural detail. When Jill and Chris, long-time urban Chicagoans, were searching for a place to start a new family, this architectural gem was just what they were looking for.
It's hard not to be charmed by this quirky home located on a quiet tree-lined block. You can't help but notice that there is something special about this place. The approach from the sidewalk quickly reveals that the front door is not located on the front of the house, but rather on the side (not to mention it's a cheerful, bright green color)!
As you enter the home you are immediately transported into a beautiful and tranquil enclosed porch – one that feels like it should open out to a warm sandy beach. The color palette is soft, yet sophisticated, and the overall aesthetic is playful. Once you are inside you begin to notice all of the strong architectural details (the details that set apart a home built by craftsman): built-in cabinets, wood-trim details, carved doorknobs, stain glass windows, hardwood flooring, and decorative lighting. It's a feast for the eyes.
Living in a home with such strong stylistic statements built right into the walls can make it difficult to navigate your own personal style throughout. "My biggest challenge is balancing honoring the antiquity of the home while also bringing it to a new life in this century. It's difficult and I'm not quite sure I've figured out a fair balance yet," says Jill, who has been learning how to balance more than just life as a young family.
The house is large but simultaneously feels cozy and airy. Sunlit rooms, tall ceilings, and dark wood trim play up the contrast against a pastel palette that continues from room to room. As you move through the house you truly get a sense of style, thoughtfulness and comfort; it really is a cozy home. It's no surprise that a house of this size is going to be a work in progress for a while, but that does not deter Jill and Chris in the least. This is a home that will see many generations to come!
Apartment Therapy Survey:
My Style: Big, bold and loud…tamed by a less-is-more mantra. Sometimes the mantra wins and sometimes it fails miserably. Either way, I enjoy blending meaningful statement objects with brilliant color, unexpected textures, mismatched eras and seamless functionality.
Inspiration: I'm primarily inspired by rich hues. I chose a light aquamarine, close to PMS 2975, as pull-through color accent in most rooms of the house to complement one of my favorite details of the original interior: the Prairie stained glass windows in the parlor, which feature a Craftsman-detailed floral pattern interrupted with Native American feather arrows.
Favorite Element: Besides the stained glass windows, I love the use of space and light in the house. The rooms have high ceilings and spacious rooms, and no matter what time of day it is, the house is flooded with natural light.
Biggest Challenge: My home is a Prairie-style craftsman, and I typically don't like this style of home. And while many people will modernize an old home for preferred aesthetics and functionality, due to the style of home and its architect, this is an historic home with nearly all original woodwork, hardware, windows, doors and even a few light fixtures. My biggest challenge is balancing honoring the antiquity of the home while also bringing it to a new life in this century. It's difficult and I'm not quite sure I've figured out a fair balance yet.
What Friends Say: People usually first comment of the dark woodwork, which is so heavily pronounced and designed into every room, from the original hallway built-in cabinets, glass curios in the parlor, picture rails to the ceiling vaults in the dining room. After that, they comment on the openness and spaciousness of the house, which is deceiving from the outside. In terms of interior design, the Map Room usually receives the most looks.
Biggest Embarrassment: Our parlor, or living room. We are currently using it as a play space for my toddler, and it still looks like it did the day we moved in. Next to that, some gold hardware in the kitchen and one bath that was installed by a previous owner. We will be replacing it when we redesign the kitchen and bathrooms.
Proudest DIY: I turned what was a useless enclosed porch into a second living room space. I painted it white, added rich white curtains and comfortable seating, and now it's our favorite indoor place to read and relax in the spring, summer and fall.
Biggest Indulgence: So far, an outdoor fireplace. The home is on almost three city lots, and we wanted a section of it to be an outdoor living area to relax after a long day, roast marshmallows and even cook a pizza.
Best Advice: While many friends have given me a hard time for not having all rooms of the house decorated yet, I believe that taking time to live in a space to get to know it is wise. You can get a greater sense of what the light looks like during different times of day and all the seasons as well as what rooms in the house you are more drawn to and what you prefer to have them function as.
My Dad's Lake Michigan Sailing Chart: Framed by the Frame Warehouse in Oak Park, IL
Library Table: Antique Shop
Hardware: Original (notice crystal knobs for exterior-facing and brass for interior-facing sides, which are the same for all doors in the house)
1930s chandelier: Original to home
Delftware pieces from the 1600s: Heirloom
Two paintings by Anne Martin, my husband's grandmother
Anthropologie Peacock pillow
Ralph Lauren bedding and curtains
• HOUSE TOUR ARCHIVE: Check out past house tours here.
• Interested in sharing your home with Apartment Therapy? Contact the editors through our House Tour Submission Form.
• Are you a designer/architect/decorator interested in sharing a residential project with Apartment Therapy readers? Contact the editors through our Professional Submission Form.
Updated daily with fresh tours full of photos for you to pin & enjoy!