A Montreal Home for a Family of Five Is Fantastically Decorated
We independently select these products—if you buy from one of our links, we may earn a commission. All prices were accurate at the time of publishing.
About this tour
Style
Eclectic, Traditional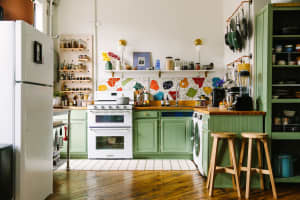 Can't-Miss House Tours Straight to Your Inbox
Keep up with our latest house tours each weekday with our House Tour of the Day newsletter
Name: Joanna Grzeszczak, her husband, and three children
Location: Montreal—Québec, Canada
Size: 1, 200 square feet
Years lived in: 5.5 years
Welcome to "The World at Home: 31 Real House Tours Around the Globe." Check out where else we've visited this month here.

With three kids and a business (or two!), Joanna's life and home are bustling. As a writer, she's constantly trying to find balance and appreciation for all things beautiful and real (especially in the world of social media). On her blog, she openly shares her lifestyle—mindfulness, parenting and homemaking—while offering her readers suggestions on how to lead a simpler, not-so perfect, yet full, life.
Originally from Poland, Joanna believes that her eclecticism in design is inspired by her roots. Bright colors, textiles, and tons of art—handmade both by herself and her daughters and many favorite artists—hang as galleries in nearly every room. She has a great eye for mixing curbside or Kijiji finds with modern furniture. And Joanna is not afraid of change; her home is in a constant state of evolution to suit her growing family's needs. For instance, she chooses wall decals to transform a room for their versatility and the lower commitment than painting.
Joanna believes in decorating a home now to tell the current story of your life and not wait for more money, older kids, more time—just bring in the objects that make you smile now! If you're keen on room makeovers, read Joanna's blog to catch all the new room reveals that have been occurring around the family's home over the past year.
Apartment Therapy Survey:
My Style: Collected eclectic. Growing up in an old European city (Wroclaw) I was surrounded by historic buildings and vintage eclecticism, and I think this has profoundly shaped my style and who I am now. I love reading about decor trends online  (Hello AT!) and seeing new emerging styles in Montreal, but I always go back to that collected style I grew up in.  
Inspiration: Art, old architecture, nature.
Favorite Element: Gallery walls.
Biggest Challenge: Space—we are a family of five and our home is not very big. 
What Friends Say: I think people visiting us appreciate the coziness of the space, but for sure some must be thinking I'm just a cluttered lady.
Biggest Embarrassment: My closet— it's an opposite of Konmari method. The mess there is surreal. 
Proudest DIY: We painted a lot of furniture pieces in this house, installed the open shelves, DIYed the vanity in the bathroom, and built our own deck, but I think I'm the most proud of my little Frida portrait I painted.
Biggest Indulgence: The electric fireplace—it's mostly for the looks than the function, but during the long Montreal winter we are all happy it's there!
Best Advice: Decorate your home now—don't wait for more money, older kids, more time—just bring in the objects that make you smile now, that tell your story. And don't worry what other may think and how things may not go well together. Making a house a home is never done, it's a process, and the real goal is to make people living there happy.
It's been a while since we last painted, I don't really remember.
Table — Kijiji
Console — Kijiji
Cabinet — Kijiji
Rug — Wayfair
Chairs — Structube
Gallery wall — Art painted by me and two prints from Rifle Paper
Cabinets — IKEA
Shelves — Our DIY
Rug — Amazon
Beds — IKEA
Flower decals — Urban Wall Decals 
Bedside table — Found on the side of a street during moving season in my neighbourhood