Joanna Gaines Shares One of Her Biggest Color Mistakes, and How Her New Collab Is Helping Others Avoid the Same Fate
We
independently
select these products—if you buy from one of our links, we may earn a commission. All prices were accurate at the time of publishing.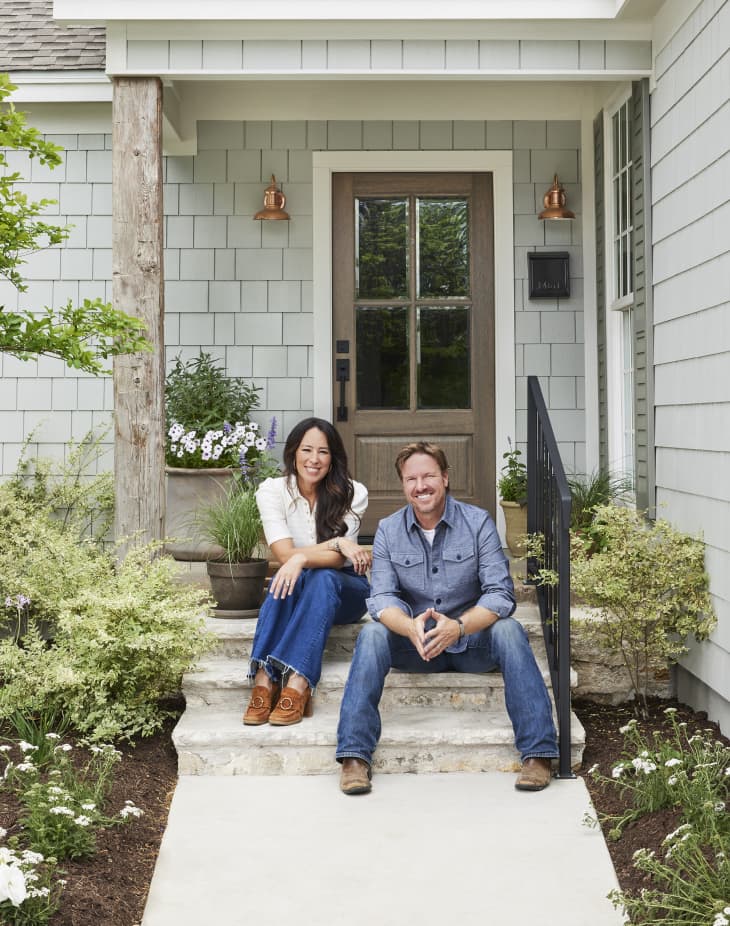 Joanna Gaines can still remember one of her biggest color mishaps. It involved a house, hundreds of gallons of buttercream paint, and a mini reveal day gone awry. 
"We pulled up and I really am not joking when I say that the neighbors were outside staring at the house," she recalled during a recent video interview with Apartment Therapy. "They were shaking their heads." 
"School bus yellow was the more appropriate term," her husband, Chip Gaines, chimed in.
While the Gaineses — best known for "Fixer Upper" and the Magnolia brand — are now able to laugh about the incident and refer to it fondly as a learning experience, one of their main goals has become helping homeowners avoid the same situation. The duo have done just that with their latest collaboration, The Magnolia Home | James Hardie Collection, which launches today. The collection is an expansive series of siding and accessories, featuring 16 curated colors in three distinct Hardie siding styles.
The decision to partner with James Hardie was an easy one, both Chip and Joanna confirmed. The couple had been using the brand for over 20 years and jumped at the opportunity to work directly with the company.
"When they reached out it was really a no-brainer for us, because we were so honored to partner with a group that we had so much history with and are just big fans of," Chip said. "I mean, personally, Jo and I use James Hardie on our personal projects. And when you step into that kind of a relationship, it usually is a match made in heaven." 
"We just thought that [we] could help alleviate the struggle that I think a lot of homeowners have in just decision fatigue and trying to figure out what's next," Joanna shared. 
The design expert said she thinks that while it's important to invest in your exterior for the sake of curb appeal and first impressions, there's also something to be said for the personal aspect of arriving home and knowing you can immediately relax. She cited the joy she feels when she pulls up to their Waco, Texas farmhouse every night.
"There's something about when I see home, I know it's just like I can unwind right off the bat, seeing the exterior," she said.
The couple's hopes for the collection were two-fold. In addition to Chip's wish for long-lasting materials, Joanna was focused on picking out colors that could stand the test of time. She opted for natural, earthy tones (including beiges, grays, and — her favorite — greens).
"What have been the colors I keep going back to? What are those timeless colors?" Joanna recalled asking herself. "That's really the color palette that I chose with Hardie siding. I just wanted to make sure that they felt neutral, but also that there was some color." 
From there, she had to balance picking a color that was stylish, but not so trendy and specific that it would be dated in five years. Part of that curation included evaluating the colors at all times of day: morning, afternoon, and sunset. Different natural lighting can bring out various tones, she said, so she went back-and-forth with the brand several times to make sure that each color was consistent throughout the day.
"I think with this color palette and these textures, [it's] a really great place to start," Joanna said. "And hopefully that helps homeowners make that next best decision for what they're wanting on their exterior."