How Joanna Gaines Is Trying to Have More Fun This Summer
We
independently
select these products—if you buy from one of our links, we may earn a commission. All prices were accurate at the time of publishing.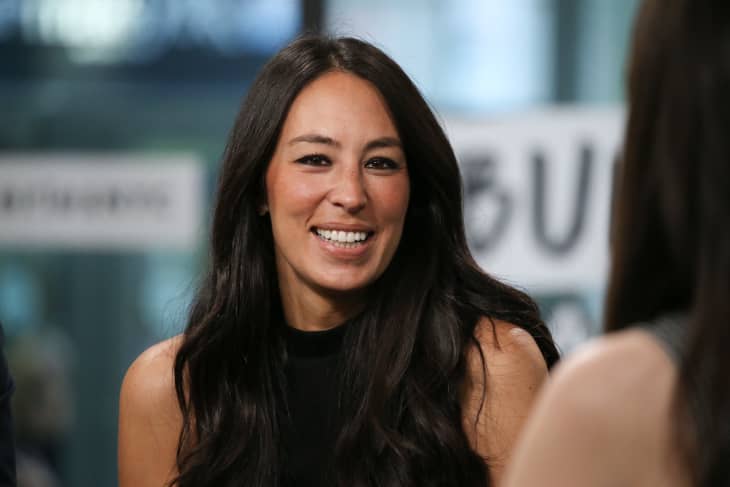 Joanna Gaines is rolling into summer… literally. The "Fixer-Upper" alum and Magnolia Journal editor in chief appears on the cover of the magazine's summer issue, donning her favorite accessory: a new pair of roller skates. 
"I was in the middle of my Christmas shopping at the time, and I had just ordered each of our two daughters a pair of roller skates from this retro shop I'd found online," Gaines explains in the cover story. 
Without putting too much consideration into it, Gaines logged back on and ordered a pair for herself, choosing green skates with pink laces.
"Who knew if I'd ever use them, but I'd just resolved to have more fun, loosen up a bit, and a pair of retro roller skates seemed like a near-perfect reminder of that," she said. 
Well, it turns out the sleek new pair of wheels are all a part of Gaines's goal to take life less seriously this summer. It turns out she uses the skates "all the time," and  along with her daughters, Gaines skates around the farm, "chasing the sunset down our driveway, wind blowing our hair back."
Lacing up her skates goes beyond the typical summer fun, however. For Gaines, it's a reminder that sometimes you just need to let loose and enjoy yourself more often.
"Fun doesn't seem to run in my blood the way it does for others. But even I can sense when it's time to cut loose," said Gaines, who admitted joining in on the fun tends to be "a slow yes" for her. "I can take life so seriously sometimes that I forget to enjoy the moments staring back at me. To let something stir my spirit or stop me in my tracks. To look around and truly take note of the growth of all that I have nurtured. But this issue is prompting me to savor with abandon. To take nature's cue and grow wildly. To take in every breath, every sound, every taste." 
A lot of Gaines's desire to learn to slow down and have fun comes from her Korean mother, who often ends phone conversations with her signature signoff: "have a fun!"
"Simple words, but weighty in truth, and made even more beautiful by her Korean accent," said Gaines, who asked her mom to write out the words in Korean. Now, it's the screen saver on Gaines's phone. 
"My mom is such a playful person, always has been — and she knows I'm naturally wired to be more serious. But she raised me, and she knows there's more to me than that. Parts of my personality that aren't so easily shown. That's why she reminds me, every time we're on the phone — 'Don't forget, Jojo, have a fun!'" 
Gaines's lesson is one she hopes all readers will learn to embrace. 
"Whether you leap into summer or take one optimistic step after another — toward open roads, new adventures, and possibility — let's take with us a desire to feel once more. In the grass between our toes, in the warmth of the sun on our faces. All around us, the symphony of summer sings a song of flourish. It's singing for you too," she writes.
The Summer issue of Magnolia Journal, available on newsstands and online starting May 20.