This Is the Easiest Hack for Saving Money on Large-Scale Rugs
We independently select these products—if you buy from one of our links, we may earn a commission. All prices were accurate at the time of publishing.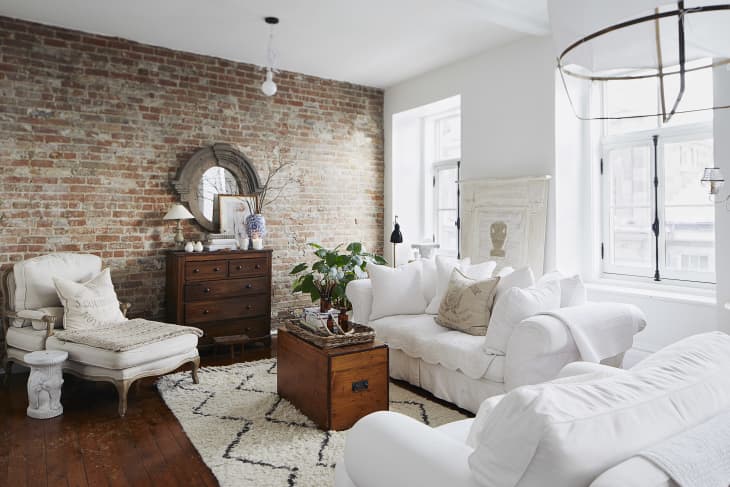 Whether it's an old-school antique or modern splash of 8'x10' color, who doesn't love a big, beautiful area rug? This decor staple often gets crowned as one of the top design make-or-break factors, so it's a key consideration in any room. Of course, the larger the rug, typically the higher the cost — meaning, if you need some substantial floor coverage, you're probably looking at a hefty investment. There's one stylish workaround, though, to get the area rug look for way less. 
Montreal-based Tinka Markham Piper, a professional organizer and founder of Solve My Space, lives in a 2,220-square-foot home with her family and two pets. Their space skews bright, modern, and colorful, but one noteworthy detail specifically comes into play in the dining room: the unique rug setup. As an extension of the open kitchen and living room floor plan, this area features six chairs tucked in to a sizable table, all situated on top of a brightly patterned rug. If you look closely, though, you'll see that the rug is actually a series of small, separate (but identical) rugs, stacked alongside each other to look like one large-scale carpet. 
Follow Topics for more like this
Follow for more stories like this
Rather than splurging on one area rug to fill the spacious dining portion, this homeowner lined up what appears to be two in a row, rotated lengthwise so that the longer ends are touching. Because both have the same design, they perfectly mirror the look of a single, cohesive accent when placed side by side. Which, the fact that the print repeats is the only indicator that they're not, but it honestly feels more eye-catching and dynamic, especially paired with the frayed, slightly misshapen ends.
While the rugs Piper used were actually vintage ones that her parents bought in the 1970s, you can easily recreate this budget-friendly look to decorate any bare floor beneath your bed, living room sofa, and beyond. If you don't have your own secondhand collection to source from, start with brands like Ruggable, Rugs USA, or even IKEA — all known for well-designed, well-priced pieces — to stock up on affordable runners, or a handful of 3'x5' or 5'x7' styles. Combined, you'll likely pay a fraction of the standard area rug cost, while covering the same amount of square footage. I'd suggest going for more abstract, busy-looking patterns to help disguise any potential gaps or overlap. Ultimately, the floor is yours to design and layer however you want, even if it's a three- or four-piece conjoined rug display.