These Handmade Pasta Bowls Are Perfect for Comforting Winter Meals — But They'll Likely Sell Out Fast
We
independently
select these products—if you buy from one of our links, we may earn a commission. All prices were accurate at the time of publishing.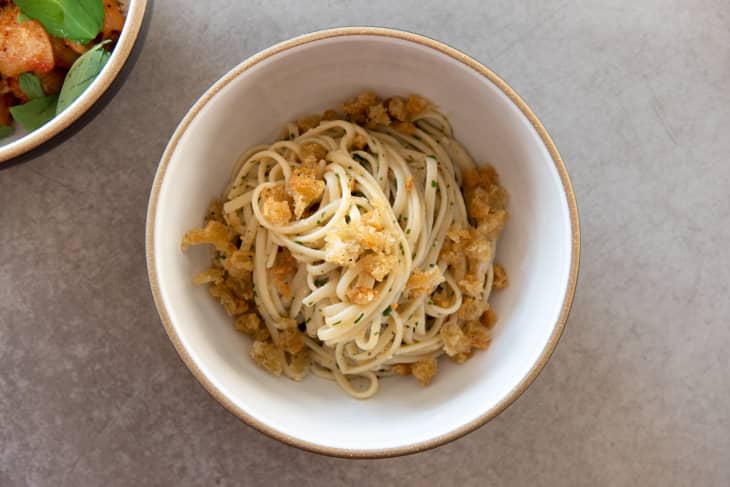 Since I A) live in Brooklyn and B) basically live to eat good pasta, I was naturally very excited to learn of a recent collaboration between chef-designed ceramics brand Jono Pandolfi and celebrated chef Missy Robbins. Missy is the mastermind behind popular Brooklyn-based pasta restaurants Lilia and Misi (be still my heart), so this is one collaboration that feels like a long time coming. Deeper, slightly more narrow, and perfectly shaped to enjoy your favorite pesto tortellini, bucatini with burrata, or classic spaghetti with meatballs, the Union Bowls are a must-have piece of serveware for cozy winter meals.
During the first launch earlier this fall, these Union Bowls sold out in just 24 hours, so my advice with this round is to add to cart now while you still can. No carbs left behind!
A little bit more about the collaboration: After working together for years creating dinnerware for her restaurants, Jono and Missy wanted to create a product that could be enjoyed by home cooks, too. A follow-up to the best-selling Pasta Bowl, the Union Bowl is an even cozier shape, and it's designed to help retain more heat (and, yes, more pasta)! Think of this as the bowl you'll reach for when you're in the mood to eat something comforting, casual, and hearty: soups, stews, and pasta dishes galore.
The bowls are currently available in a neutral, yet striking, Toasted and Dark Brown clay with white interior glaze. Priced at $52, these might seem like a bit of a splurge, but I can vouch for their beauty, versatility, and durability when stacked and stored. After using these bowls to serve everything from minestrone soup to my favorite pasta dishes, I haven't seen a single chip in the enamel. I want even more to add to my dinnerware collection because they make everything I cook look so much better.

I'm reaching for the Union Bowl this winter when I'm eating a cozy dinner and watching Netflix curled up on my couch, but they also make a great holiday gift for the pasta lover in your life. Get them now before they sell out!