Kati's "Constantly Evolving Space" in Houston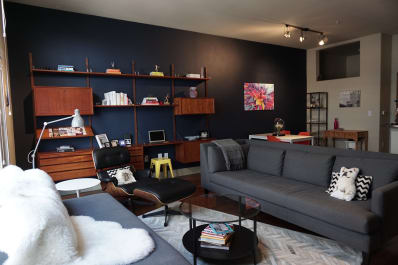 (Image credit: Submitted by Kati)
Name: Kati
Location: Rice Village — Houston, Texas
One year ago, I packed my cat Boots and everything I owned into a minivan and moved from New York City to Houston, Texas to be with my boyfriend. We rented a great apartment in Rice Village - near a host of boutiques, restaurants, and bars. This was our first time living together, and we were excited to curate an apartment that reflected both of our personalities.
(Image credit: Submitted by Kati)
We wanted a combination of clean lines and comfort. We love Mid Century design, but also wanted to avoid feeling like we were living on the set of Mad Men. By combining some great Craigslist finds, a couple IKEA pieces, some DIY projects, and a few new splurges, we were able to create a space we love spending time in and sharing with our friends.
(Image credit: Submitted by Kati)
Because most of the larger items in our apartment were slowly accumulated through Craigslist, we learned to enjoy a constantly evolving space. It took several months to pull everything together, but the wait was definitely worth it.
(Image credit: Submitted by Kati)
(Image credit: Submitted by Kati)
Our favorite piece is the vintage Cado Royal System shelving we bought for only $400! The shelves were covered in paint splatters and had some peeling veneer, but with a little love they have become the focal point of our living room. Even Boots agrees!
Thanks, Kati!
• Interested in sharing your home with Apartment Therapy? Contact the editors through our House Tour & House Call Submission Form.