Kelley & Matt's 100 Year Old Apartment
We
independently
select these products—if you buy from one of our links, we may earn a commission. All prices were accurate at the time of publishing.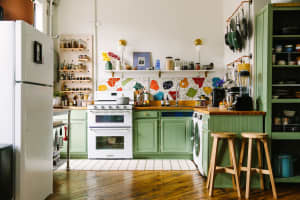 Can't-Miss House Tours Straight to Your Inbox
Keep up with our latest house tours each weekday with our House Tour of the Day newsletter
Name: Kelley and Matt
Location: Salisbury, North Carolina
I live in a very old apartment with beautiful windows and 13′ ceilings with my boyfriend, Matt. I'm a graphic designer and Matt's in web marketing and our workplaces are about an hour and a half apart. When we decided to move-in together, our options were a little limited by geography.
Matt and I chose this 100+ year old apartment in downtown Salisbury, NC for our first go at co-habitation. We reluctantly settled on the area because it was the halfway point between our jobs, and we took back every bit of hesitation the moment we walked in the door. We're not quite sure about the history of the apartment – we've heard something about nuns and something about the old Bell South switchboards, but the brick, hardwoods + shuttered windows tell a pretty old story.
The apartment is a 2br / 2ba with a restaurant beneath us (Chick'n'ale – southern comfort food meets craft beer), and is right in the middle of downtown. The bathrooms have beautiful antique fixtures, there are beadboard ceilings throughout, and round corner details at each doorframe. There are no blinds or curtains – just full shutters for each window. There's a huge chest in the living room, stuck until someone cuts a hole in the floor to remove it, that we originally saw as dark eye-sore and now love both for the look and the storage capacity.
As two collectors of thrift + vintage furniture, especially things with a mid-century feeling, we fell in love with the character and lack of granite, stainless steel, and mini-blinds. We traded our tiny, beige, brand-new apartments for a giant, old soul of a home with plenty of room for all of our acquired finds. I don't know how to define a style for either of us, but I was amazed at how well everything came-together and impressed by how similar our styles have been. We like authentic, found vintage pieces mixed with pops of color in modern and handcrafted artwork. We probably err on the side of modern, clean lines with a softness found like those found in mid-50s danish furniture. We love to travel and have souveniers scattered around family photos. While living together brought some challenges that made me nervous – how girly was I allowed to be in my decorating? Were throw-pillows a single-female-only accessory? How would we each define a place of our own? – the apartment has so much space and so much character that everything just kind of fell into place.
The night before we moved-in I came by myself to pick-up the keys (in late November). The apartment was dark, and the only light I saw came from the Christmas lights + wreaths just outside our windows on the street poles. I sat on the floor and thought about how special it felt, how grateful I was that we'd found each other and this apartment, and finally felt at-peace with all of the changes we were about to go-through. Three days after we finished unloading our moving trucks, we were unpacked, knick-knacks were out on-display and it we were ready for the holidays. We had wrapped presents under an antique ladder (wrapped with Christmas lights + a star on-top), a Santa hat on our globe light, and the fireplace channel on the tv. I settle-in quickly.
Now that we've lived here for about 9 months, we're hoping to renew our lease this fall – we can't imagine finding another space like this one. We spend holidays watching parades from our windows, spend weekends at the block parties with Matt's nieces, walk to dinner dates around the neighborhood, and enjoy weekend mornings with some coffee watching the trees outside our giant windows. I've taken smash-cake photos of my nephew, headshots of Matt, and created countless illustrations in front of these brick walls. We've continued building memories with thrifted finds, including a couple pieces from the Okey Dokey General Store across the street and Cheerwine memorabilia (founded here in Salisbury). We've hosted Christmas dinner, houseguests and nieces & nephews.
I feel spoiled by this apartment anytime a guest walks in and gawks at the ceilings, brick + windows. It's been an amazing home that we're proud to show off and can't wait to come home to. I think the most amazing part is the tiny town in which we found it. I never expected our halfway point to become such an amazing find, and never knew how much character we'd stumble into in this tiny town in the middle of North Carolina.