The Colors You Should Never Paint Your Kitchen Cabinets, According to Real Estate Experts
We
independently
select these products—if you buy from one of our links, we may earn a commission. All prices were accurate at the time of publishing.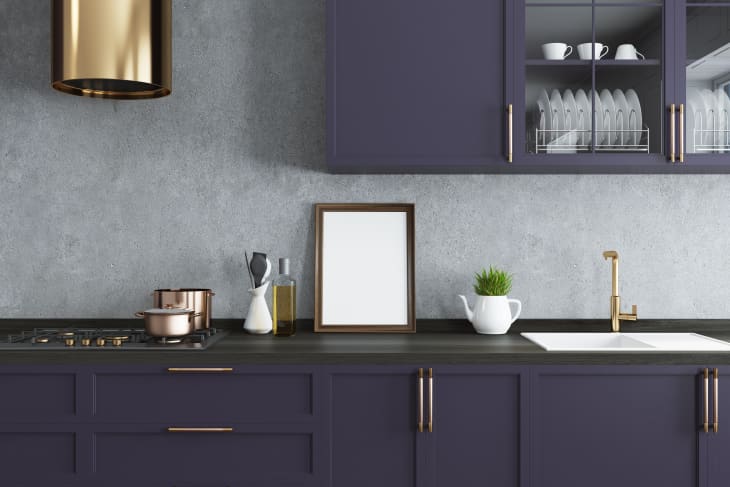 Painting your kitchen cabinets is a popular way to refresh the room without spending a fortune or tossing otherwise useful cupboards just because they look dated. While your color options can be limited when installing new cabinets—IKEA, for example, sells only a handful of drawer and door faces that aren't white, wood, or gray—painting existing cabinets expands your potential palette to tens of thousands of swatches.  But think twice before going with a splashy, loud color for your cabinets, as it could hurt your resale value.
What Are The Best Cabinet Colors for Resale?
A word of advice? Just don't get carried away. Cabinets, after all, aren't exactly accent pieces; they take up a lot of prime visual space in most kitchens. Experts caution against using bright or daring colors if you're trying to boost your home's resale value.  On the other hand, painting your kitchen one tone can create a more expensive look that buyers will love.
"There are obvious bold colors that I would steer DIY homeowners away from using on kitchen cabinetry, such as hot pinks, bright oranges, fluorescent yellows, and purples," says Colleen Toner, a real estate agent in Lynn, Mass. 
"Most consumers prefer neutral colors—whites, grays, browns, and perhaps even some shades of antique blues or greens," she adds. And while black can be a common finish elsewhere in the home, she says Toner discourages its use in the kitchen—a room that ought to feel joyful, bright, and airy. "Black is overpowering and has a somber feel." 
Jennifer Lozada, owner of Fresh Start Interiors in Concord, Mass., admits she's not a big fan of painting kitchen cabinets unless there's no room in the budget for new ones. Even in those cases, she insists on hiring a professional painter "who will take the time to properly prepare them with cleaning, sanding, priming, and hopefully spraying the doors off-site for the best final finish." 
However, she's open to a full spectrum of color options. "I have seen cabinets successfully painted shades of white, gray, navy, deep green, and even black," Lozada says. She says light neutrals are generally the best colors for resale because they appeal to most people, but she advises against painting cabinets taupe or beige. "There's the tendency for people to accidentally go too warm—with golden or tan overtones—and then that would be a mistake that's hard to correct." 
Adam Rosenbaum, an agent with Century 21 Adams in Arlington, Mass., recommends playing it safe with neutral tones. "Any color that draws attention is a bad idea," he says. And Dana Bull, a property investor and agent with Sagan Harborside Sotheby's International in Marblehead, Mass., agrees that hues with hubris can turn off a lot of buyers. "Obviously, for resale, most prefer white, and any bright color may not appeal to the masses," she says. 
"[But] you can paint your cabinets any color as long as the craftsmanship and quality is solid," Bull adds. She notes that her advice could be taken with a grain of salt. "You're talking to a girl with a mint green fridge." 
Jamie Cholette, owner and broker at Boston Harbor Real Estate, says mint green is actually lovely in some contexts but it's not always easy to pull off, making it a far riskier bet. "Mint green is a popular and lovely paint color that photographs beautifully across many professionally designed Pinterest and HGTV kitchens," Cholette says. "However, when combined with certain finishes and colors, mint green can create a 1950s-60s retro feel or an unintentional pastel palette more commonly seen in children's rooms." 
Cholette says red would be her top choice of cabinet color to avoid. "As with cars, red is not a one-size-fits-all paint color," she says. "Red limits furniture and other decor options throughout the space, especially with an open concept floor plan." 
But among the six pros we surveyed, there was one color that absolutely no one could get behind when it comes to painted cabinets, at least in terms of resale value: Purple. 
"The worst color I've seen that I would never recommend is purple," says Hudson Santana, a real estate agent specializing in investment properties and development in the Boston and Miami areas.
But poor purple is just taking the heat for an entire category of overstated and audacious colors, from hot pink to metallic gold, that most homebuyers are just not ready to embrace for dishware storage.
"I would never recommend any flashy color in general," Santana says.