This TikToker "Vinyl Wrapped" Her Oak Cabinets, and It Looks So Sleek
We independently select these products—if you buy from one of our links, we may earn a commission. All prices were accurate at the time of publishing.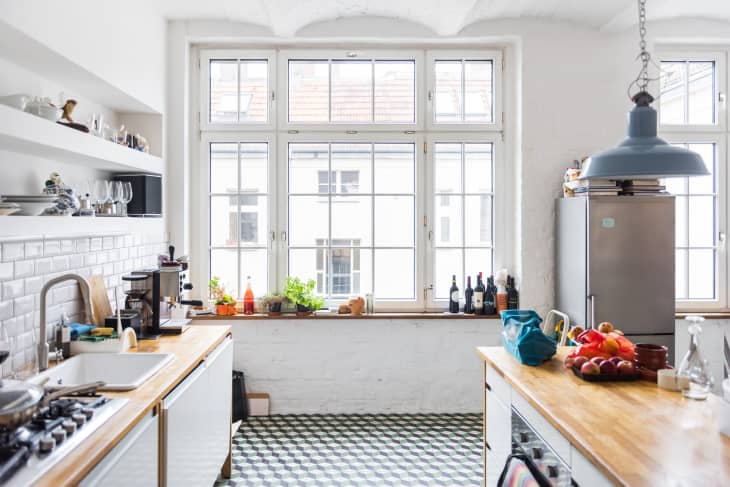 What happens when you move into a rental house or apartment and everything is perfect…except the kitchen cabinets? You could just learn to live with them. Or, you could try vinyl wrapping them in a brand new color to give your kitchen a makeover without having to do any damage to the existing cabinetry.
Follow Topics for more like this
Follow for more stories like this
TikTok user Paige (@paige.sechrist) did just that when she moved into her rental home over a year ago. The existing cabinetry was an unpainted orange-toned oak and she wanted something edgier. So, she picked up some sheets of vinyl wrap, which she heat bonded to the cabinets, and created and entirely new look in her kitchen.
"A little over a year ago I moved into this rental and I absolutely hated the kitchen cabinets, so I vinyl wrapped them not realizing how controversial of a project that would be," Paige said in a February 2023 video. "So here is the exact one-year update and the cabinets look the exact same. They held up with the cleaning, the cooking, everything."
In her original video, posted to TikTok in January 2022, Paige showed the process of the vinyl wrapping. She cut pieces of vinyl to size and used a heat gun to bond it to the cabinet doors and frames and a squeegee to help the vinyl get into all those cracks and crevices.
The entire DIY project cost about $100 and took a couple of days to complete, but Paige says it was completely worth it. And after a year of living with the vinyl, it looks exactly the same as it did on day one.
Paige said in the comments section that she did test the vinyl installation and removal on a dresser before committing to the cabinets. And definitely don't vinyl wrap cabinetry that is already painted because the existing paint will likely chip and peel when you go to remove the vinyl later down the road.
Perfect for rentals and ideal for those who can't commit fully to a kitchen reno, vinyl wrapping could be the answer you've been looking for.