5 Kitchen Counters That Are on Their Way Out, According to Real Estate Pros
We
independently
select these products—if you buy from one of our links, we may earn a commission. All prices were accurate at the time of publishing.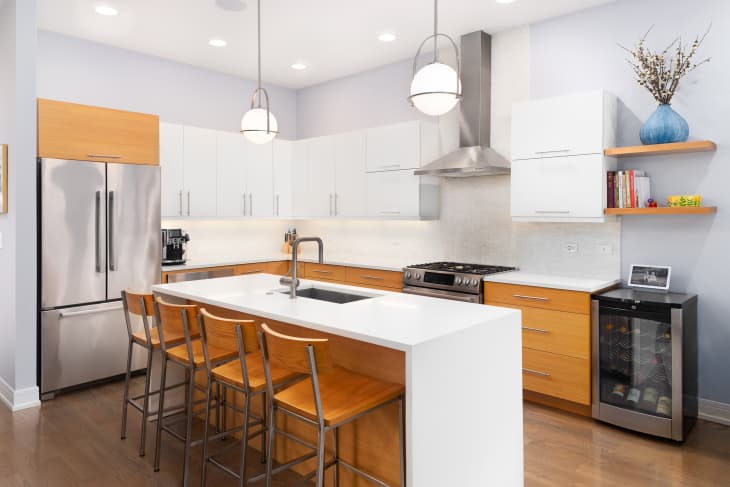 According to Opendoor's 2023 Home Decor Report, updated kitchen features like countertops are the biggest turn-on for buyers, says Jennifer Patchen, a broker at Opendoor. At the same time, outdated kitchen countertops are buyers' biggest design turn-offs.
Keeping up with the latest fads gets expensive, which is why many homeowners choose timeless styles that are still practical. "Buyers are looking for a combination of appearance, value, stain-resistance and cleanup, and heat-resistance," explains Artem Kropovinsky, head of Arsight, a team of interior designers in NYC. "This means they want a countertop material that looks good in their kitchen or bathroom while also being practical and easy to maintain."
Here are several kitchen counters on their way out of style, according to real estate experts.
Tile and Grout Countertops
Tile and grout countertops top the list of kitchen trends on their way out in 2023. "While owners love the look of subway tile throughout the home, traditional tile and/or grout kitchen countertops aren't making the cut," says Patchen. "They're hard to clean, so we can expect to see less of these styles in 2023 and beyond."
Jon Sanborn, a Realtor, real estate investor, and cofounder of SD House Guys in San Diego, California, says that laminate countertops are the most affordable countertop option and have been popular for years, but they aren't so accepted among buyers.
"They lack durability and can easily show wear and tear from food spills, cuts, and general use. They may also be difficult to clean, due to their textured surface," says Sanborn. "While laminate is still widely used in commercial and rental homes, there is a trend towards more permanent and durable surfaces."
Marble is beautiful and durable — and capable of lasting more than 100 years if it's sealed properly, according to the International Association of Home Inspectors. But it does require maintenance.
Patchen says homeowners rarely see a return on their investment with marble kitchen countertops. "This luxe option is less attainable, and there are plenty of faux-stone alternatives that will help achieve the same look for less, without the required care and maintenance that marble demands," Patchen adds.
Waterfall-Edge Countertops
A waterfall edge is a design that drops vertically at the end of the countertop. "These might protect the woodwork from chips and stains, but they overshadow the natural elements in the kitchen," says Alex Capozollo, cofounder at Brotherly Love Real Estate. "These also veil the storage space, making them not fit for purpose."
Capozollo says that many of his clients are going back to traditional countertops to prolong their use. "Some clients are even installing these countertops for their longevity, aesthetics, and affordability. The most common among these are granite countertops. They are a timeless classic."
Stainless Steel Countertops
Stainless steel kitchen countertops are highly durable, antibacterial, and stain-resistant, making them a prime choice in restaurant kitchens. For a time, more homeowners were choosing to install stainless steel in their kitchens, but not so much anymore.
"Stainless steel countertops were once very popular in kitchens and bathrooms, but they have become outdated as homeowners strive for a warmer look and feel in their kitchens," says Sanborn. "Stainless steel can be difficult to clean and maintain, making it less desirable than newer materials."