5 Tips for Creating a Workable Makeshift Kitchen When You're Renovating, According to Serial Renovators
We independently select these products—if you buy from one of our links, we may earn a commission. All prices were accurate at the time of publishing.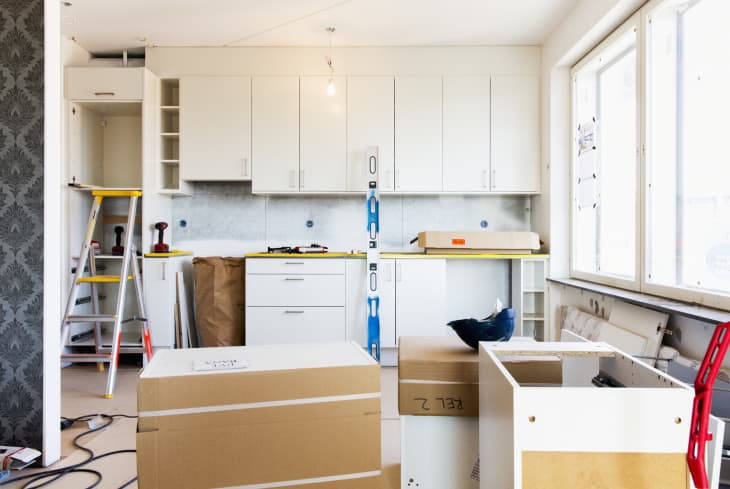 Renovating your kitchen can have a big impact on the look and value of your home. Kitchen updates are popular projects, but many homeowners can feel a bit overwhelmed by the idea of having to make do without a space to cook and eat their meals while they're in the thick of things. After all, ordering out for every meal can quickly add up — and in some cases could eventually cost almost as much as the renovation itself. 
The best sources for tips on living through a renovation of your kitchen? Serial renovators and home flippers, who know a thing or two about making a creative cook space to bridge the gap. I spoke with three renovation pros to find out how homeowners can create a makeshift kitchens to make their lives easier before getting started on their remodel. 
If your current appliances are still in working order, Kelly Waterman, Designer with Kitchen Design Expertise at Modsy, suggests moving your major appliances to another room so that you'll still have access to the basics.
While you won't be able to use a range or a dishwasher in your living room, for example, other appliances are a little more forgiving with regard to where they're placed — think microwave, coffee maker, and toaster oven.
"You will not have gourmet dinners, but you'll be able to use your refrigerator and microwave to make do," Waterman says. That small bit of normal can help cover the basics you'll need on an everyday basis.
Make the most of your garage.
Fulmer says that it's common to move refrigerators to the garage during kitchen renovations. "There shouldn't be an issue with overloading a circuit there, as there aren't many other electrical needs in the garage," he explains. "If you will be running large power tools in the garage, you could also plug in the fridge in another room, such as the living room." Just beware when moving any heavy appliances across your floors, as you might scratch them. 
Work in a specific order.
With kitchen renovations, the order of operations is crucial. That's why Jordan Fulmer, a Real Estate Investor in Huntsville, Alabama, with Momentum Property Solutions, says you should set a plan up front. "We often do the parts that will render the kitchen space unusable last or at a point when it will not be needed," he says, adding that the big thing to think about when doing a renovation is when you'll be removing your countertops, as this will also eliminate your access to your sink. "Generally, you should wait to remove the countertops until just before the new ones are ready to go in," he says. "That will minimize the time you have without a working kitchen sink."
Once your sink is out of commission, Fulmer says it's time to make the most of your bathroom. If you are careful about the order you're working in, you can plan to do this part towards the end, eliminating the length of time you spend using your bathroom as a kitchen space.
Remember that your bathroom sink doesn't have a garbage disposal, as your kitchen might, so you'll need to be careful in scraping food into the garbage before washing any dishes.
Treat the reno like a camping trip.
Not everyone will be able to simply move their existing kitchen gadgets to another room in order to keep things running as seamlessly as normal, which is why Donald Olhausen Jr, owner of We Buy Houses In San Diego, says some people are better off treating the whole experience like a camping trip. "Debris on the ground, no running water, building materials everywhere" all make it feel like you're roughing it, according to Olhausen. To get by, he suggests homeowners opt for standard camping gear like paper products to cut down on the amount of dishes you need to do in the bathroom, and shop for less complex meals that can be microwaved or heated up on a plug-in burner like a hot plate. 
But, Olhausen says that the most important thing you'll need in order to survive a major kitchen renovation is your sense of humor: "If you make fun of the situation it can be entertaining." And remember, at the end of this you'll have a brand-new kitchen to enjoy.