Krysia & Tomek's Collected Collaboration in West London
We independently select these products—if you buy from one of our links, we may earn a commission. All prices were accurate at the time of publishing.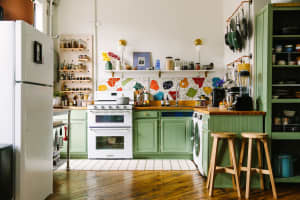 Can't-Miss House Tours Straight to Your Inbox
Keep up with our latest house tours each weekday with our House Tour of the Day newsletter
Name: Krysia and Tomek
Location: Ealing; London, United Kingdom
Size: 443 square feet
Years lived in: 2 years; owned by Krysia (Tomek moved in one year ago)
Follow Topics for more like this
Follow for more stories like this
Like many young couples in London, Krysia and Tomek are making do in a small space, but almost anyone who steps foot in their West London flat would admit that these two are doing so more stylishly than most. Krysia bought the studio-turned-one-bed-apartment, located in a new development just yards from Ealing's high street, off-plan, and moved in just over two years ago. At 443 square feet it was meant to be a single girl's starter home, but fate had other plans.
Krysia and Tomek knew each other as children, but sparks didn't fly until a chance re-encounter years later, while both were volunteering at the London 2012 Olympics. Fast forward a couple years and Tomek moved in, the start of an adventure in co-habitation and co-decoration.
Krysia is a props buyer for film, having worked on visually rich hits like Hugo and Alice in Wonderland 2, to period films like Macbeth and Far From the Madding Crowd. Her stylist's eye and uncanny ability to locate the best bargains up and down the UK mean that her and Tomek's home is full (but never cluttered) with unique and interesting finds.
While Krysia's taste runs toward vintage and eclectic, Tomek, who works testing new cars for Ford, favors anything industrial, rugged and handmade. He made their coffee table out of reclaimed wood and hairpin metal legs (inspired by a similar piece from another Apartment Therapy House Tour, funny considering that that couple, Krysia and I all went to university together). Krysia and Tomek's TV unit was another DIY effort: originally a boot locker at a rural school, the couple sanded, primed and painted it into new life.
Differing tastes aren't the only key to this successful aesthetic mash-up; Krysia and Tomek share a love of travel, and collect art and accessories whenever they're abroad together. It's not surprise that walking into this home is like being in a particularly interesting museum, where every piece has a story.
Apartment Therapy Survey:
K: A bit of mix & match. Mixing in flea market finds and old treasures to contrast with the modern appliances and a splash of mid century modern/Hollywood regency.
K: I work in film production as a prop buyer. So I am always inspired by the jobs that I'm on…whether it's Alice in Wonderland, Macbeth or a modern thriller. I work with very talented people who really mentor me and inspire me. I spend a lot of time shopping for work and trawling through markets so I always end up picking up pieces for myself. I also manage to purchase things once the film has wrapped. I am also a huge magazine and Pinterest addict.
T: I like to always bring something back from our holidays / travels. A particular favorite is the Moroccan rug in the bedroom.
K: I like to collect artwork from my travels. When I hiked to Base camp Everest in 2009 I found an old map in a shop in Kathmandu before I flew home. I also am a bit obsessed with the Beverly Hills hotel design style (I thought about wallpapering the Banana leaf print behind my wardrobe but then realized I had too many clothes and you would never actually see it – I'll just save it for my next house), so Tomek got me a brass pineapple ice bucket for Christmas to add to my Bar cart! I also love our green visors from Las Vegas that we hang on either side of the bed.
T: I like the open plan and floor to ceiling windows, they let so much light in. I really love the print we have in the bedroom above the dresser. I was given it when I graduated with my Automotive Engineering degree. I love that it's a signed original showing how a car engine works.
K: Making the most of the space. It's not a big flat, so storage is a problem and there aren't many options for furniture arrangement. I found some wooden archive boxes in the skips outside the V&A when we were filming there on a job. I filled up my car thinking that they would be perfect for under the bed storage. I bought the flat off plan, and the proposed wardrobe was pitiful in size and a waste of space! I asked them to remove it as I wanted to do a floor to ceiling open wardrobe instead. Plus it now gives me the feeling of a walk-in-wardrobe, which I love!
K: The hallways and entrance to my building always make my friends think they've stepped into a hotel. (Writer's note: the doorman and hotel-like vibe certainly intimidated this friend— so much so that I didn't grab a photo! Sorry.)
K: A small flat like this can get messy very quickly. I have to keep my 'floor-drobe' to a minimum!
K: I found the tv/dvd unit on Ebay. It's an old boot locker from a school in Hertfordshire. We hired a van, chopped it in half on site, sanded it, primed it and painted it.
T: We assembled the wardrobe using an Ikea system, however the shelves didn't fit the space, so I ended up making my own. I'm also really proud of the coffee table I built. We handpicked the wood from a salvage yard and bought the legs online. I spent an afternoon sanding the wood down and removing old paint which really brought out the character of the wood.
K: Diptyque candles!! I have slowly been working on the flat little by little so nothing has felt like a big indulgence. (Purchasing the flat was the monster indulgence!!) I also tend to indulge on new items for my wardrobe instead! Plus we love going on holiday!!
T: When I moved in a year after Krysia bought the place I decided to purchase the sofa as she had been borrowing her brother's and he needed it back (otherwise it was cushions on the floor for us). It's huge and super comfortable.
K: I remember getting so excited when I put the deposit down on the flat that I couldn't help pick up the odd item when shopping. A few people advised me not to get too carried away with buying items before I had actually moved in. I think you really need to live in a space for a little while to understand what you need and what will work.
T: Do it yourself(!) and make the most of the space that you have.
K: Selfridges, Heals, Liberty, Design Centre Chelsea Harbour, Ardingly Antiques Market, shops and markets abroad.
Shelves: champagne crates from ebay
Rug: Citycows.co.uk
Poofs: Morocco
Armchair: From a film set and had it recovered in fabric from John Lewis
Sofa: Sofa.com
Cushions: Films/travelling
Blankets: Cream and striped one from Hudson Bay in Toronto. Blue striped one is just fabric from Bolivia.
Coffee table: Wood (old under-floor sleeper boards) from a salvage yard, hairpin legs bought online
Tv unit: Purchased on eBay
Barcart: Kempton Antiques market
Clock: From a film
Floor lamp: Made.com
A lot of utensils etc were handed down to me
Nespresso machine: John lewis
Plates/Dishes: Ikea, Tk Maxx, John Lewis, LSA, Marrakech markets
Glassware: Merci (Paris), Ikea, family gifts
Pans etc: Le Cruset, Jamie Oliver for Tefal
Stools: Kempton Antiques market, Ikea
Bed and Mattress: John Lewis
Bedding : John Lewis
Reindeer skin: From a film I worked on
Bedside light: Merci (Paris)
Bedside tables: Old champagne crates from eBay
Framed map: From my travels in Kathmandu
Chest drawers: Flea market
Engine Artwork: Graduation present of Tomek's
Hobnail light: Etsy
Rug: Marrakech
Wardrobe system: Ikea, shelves handmade by Tomek.
Curtain poles: John Lewis
Curtains: Ikea
Towels: John Lewis
Toothbrush holders: Kempton Market
Acrylic storage: Muji
Bath caddy: John Lewis
Mirror: TK Maxx
→ And see all of our past house tours here
Updated daily with fresh tours full of photos for you to pin & enjoy!
Thanks, Krysia and Tomek!