Laminate vs. Hardwood: How to Decide Which Flooring Is Right for Your Home
We
independently
select these products—if you buy from one of our links, we may earn a commission. All prices were accurate at the time of publishing.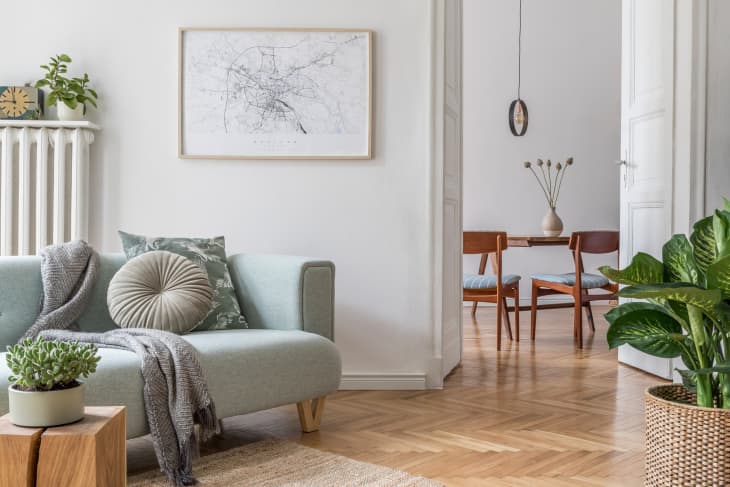 Choosing between laminate and hardwood flooring can be tricky—so many brands, so many colors, so much to think about.
Both of these popular flooring materials have their pros and cons, especially when it comes to cost and resale value, and, in the end, you might end up installing a combination of the two in various rooms of your home. Here's what to consider about laminate vs. hardwood flooring as you start to plan for your home renovation or sale.
Why you might want to install hardwoods over laminate
You can't beat the longevity and the "wow" factor of hardwood floors, which should last the entire lifetime of your home (with the right care and maintenance). They're definitely not cheap, but you'll reap the benefits of this added cost when you sell your home.
You may want to go with hardwood flooring if: 
You're OK with a more natural look. Hardwood is made from real trees, which means there could be big variations among the planks. "It will come with unpredictable markings, knots, and grains," says Juliana Oliveira of Beyond Interior Design. "If you appreciate the inherent variation of color and serendipity that only nature can create, wood is going to have a lot more character than laminate."
You're hoping to sell your home for top dollar. Generally speaking, hardwood floors will give you a higher ROI than laminate. At the very least, hardwoods should help you sell your home more quickly. "Hardwood is more expensive but the investment will pay off when you are considering selling," Oliveira says. "Always remember, buyers value hardwoods over laminate."
You have some wiggle room in your budget. Hardwood floors are more expensive upfront than laminate. That said, they also last longer, so you won't be spending as much to replace them down the road. 
You're planning to live in your home for a long time. Hardwood floors can last upwards of 100 years (though you may want to refinish them during that time), whereas laminate typically needs to be replaced every 10 to 15 years. 
Why you might want to install laminate over hardwoods
Though many people tout hardwood flooring as the gold standard, laminate absolutely has a time and a place. This easy-to-install, affordable flooring option is incredibly durable and comes in a wide array of colors and styles that can match any home's decor.
You might want to choose laminate flooring if:
You expect your floors to see a lot of wear and tear. "Laminate is more scratch- and water-resistant, ideal for families with young kids or pet owners," says Kellie Sirna, co-founder and principal of Studio 11 Design.
You're renovating on a tight budget. Laminate is more affordable than hardwood, though keep in mind you'll have to pay to replace it more frequently. "For DIY-lovers who want to have fun with their floors and don't mind switching them up every 10 years or so, laminate is fairly easy to install," Sirna says. 
You don't plan on staying in your house for very long. Laminate is great for flipping, turning a home into a rental property, or just someplace you don't envision living for very long.
You're going for a very specific style. Laminate offers much more flexibility when it comes to colors, patterns, and styles. With hardwood, you're pretty confined to the wood aesthetic. "Since the 1970s, laminate flooring has continued to evolve with an endless variety of options available today," Sirna says. "There's a laminate floor for all budgets and tastes. 
You're renovating your bathroom or kitchen. Laminate tends to hold up better in rooms with a lot of moisture.
Is it cheaper to get laminate or refinish hardwood?
In the long run, it's cheaper to finish your home's existing hardwood—with a little elbow grease and some rented equipment over a long weekend (or by hiring a professional), you can make your floors look brand new. Laminate is inexpensive, yes, but keep in mind you'll have to replace your laminate several times over while your refinished hardwoods will remain in good shape for years to come.