This Popular Thrifted Item Has a Dangerous Design Flaw, But Luckily There's an Easy Fix
We independently select these products—if you buy from one of our links, we may earn a commission. All prices were accurate at the time of publishing.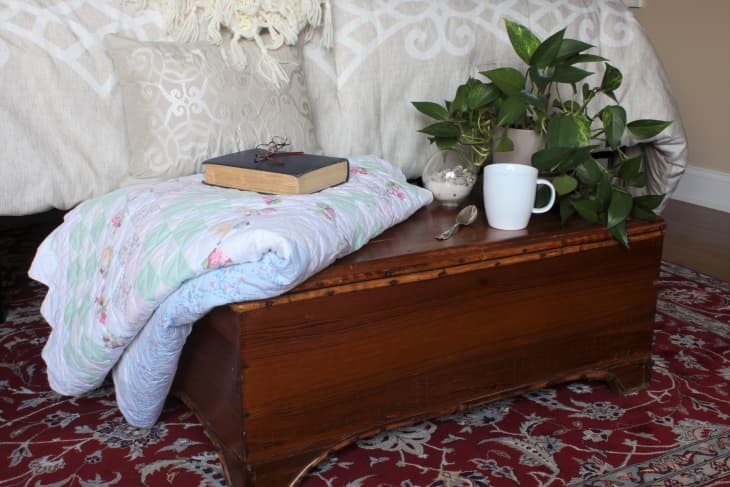 If you have one at home, you really need to read this.
Follow Topics for more like this
Follow for more stories like this
Last month, TikTok user @graceful_designs_diy, also known as Grace, posted about an antique cedar chest that every thrift shopper should be aware of to prevent unnecessary deaths.
The item was made by the Lane Company between 1912 and 1987, and was popular at the time. Unfortunately, the chest design had one flaw. It had a lock that couldn't be opened from within. So, when children hid inside, they accidentally got trapped, resulting in a total of 14 fatalities caused by suffocation. The company had issued a recall, but an estimated six million are still in circulation in the reseller market today.
"Although the U.S. Product Safety Commission has made clear that it is illegal to resell recalled goods, it is not uncommon to see these locks on these vintage chests," said Grace.
Thankfully, the solution is simple for those who own such an antique. You can just contact the company and tell them that you still have their old lock and they'll send you a new, improved version. Or, you can just remove the lock on your own and leave it off or put in a safer one from the hardware store.
With so many units of the cedar chest still available for purchase, it's good that Grace's video has raised awareness about the danger of owning this and other recalled pieces of furniture. In fact, many of her followers only learned about the safety issue because of her TikTok clip.
"You are saving lives!! We inherited one two years ago right when our son was born and had no idea. He's a toddler now and we will be breaking the lock," said one commenter. 
Another comment reads: "I literally inherited one of these two weeks ago and had no idea. Thanks!"
A third commenter added: "I have one of these recalled chests in my home. It's a beautiful piece, and I had no idea it was so dangerous."
For further information about the Lane Company's cedar chest, you can check out their product safety advisory page here.