What to Do If You Run Out of Laundry Detergent
We independently select these products—if you buy from one of our links, we may earn a commission. All prices were accurate at the time of publishing.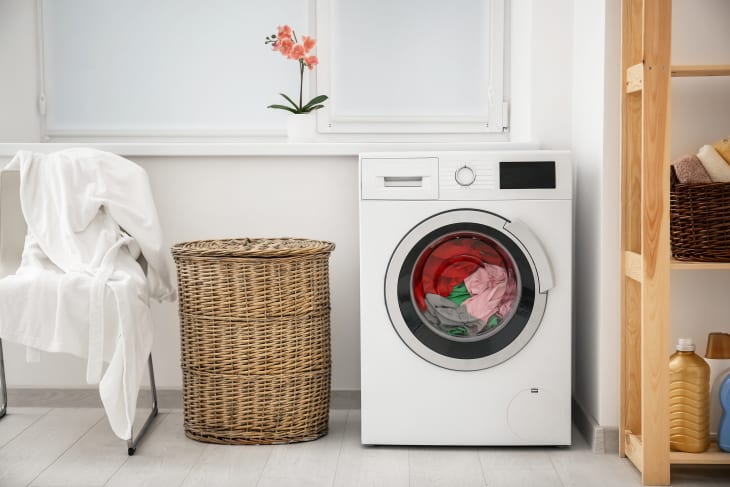 So you have a huge pile of laundry to tackle, but—uh oh—not a drop of laundry detergent left. Laundry day is bad enough without having to stop what you're doing to head to the store. Luckily, there are a number of laundry detergent alternatives you can try when you're in a pinch. Keep reading for some of our favorite ideas that will keep your laundry fresh without causing washing machine build-up. 
Follow Topics for more like this
Follow for more stories like this
Below, 6 of our favorite laundry hacks to use as laundry detergent alternatives. 
Detergent Diluted With Water
When you're panicking about running out of laundry detergent, try this brilliant hack before you do anything else:  , put a small amount of warm water into the empty bottle of laundry detergent and swirl it around. Chances are you'll get enough product to do one more load of laundry. 
Grated Bar Soap and Borax
After that, you can make a close substitute with a few other household cleaning products, says Leanne Stapf, chief operating officer of The Cleaning Authority. Regular bar soap can be grated and combined with Borax to create a very effective laundry detergent alternative. Here's how to do it: 
Using a butter knife, a spoon or even a cheese grater, grate about a cup of bar soap.
Add the grated bar soap to ½ cup of borax and ½ cup of washing soda. 
Mix the solution, and use as you would a normal laundry detergent. 
There are also a number of alternatives typically used as laundry boosters that can be used in a pinch without detergent, says Marilee Nelson, co-founder of Branch Basics. For an added boost of cleaning power, if you have it, you can add a cup of baking soda, washing soda, or sodium sesquicarbonate to the drum before adding clothes. 
Baking soda in particular is very effective in the laundry room. It's able to remove acids, oils and even odors, leaving your clothing smelling clean and fresh. Since it's a natural product, it's safe to use baking soda in your laundry over a long period of time (meaning once you've restocked your favorite detergent, you may want to continue using baking soda for your laundry!). 
But what if you don't have any of these ingredients at hand? "In the absence of laundry detergents, bar soap, liquid hand soap, body wash, and dish soap can be used for hand laundering," says Dr. Pete He, co-founder and chief scientist of Dirty Labs. If you're machine washing, He recommends the following: 
Add two to three teaspoons to the washing machine's detergent dispenser or directly to the washer drum before water and laundry.
Do not mix with other laundry pre-treaters or additives
Be sure not to exceed the recommended amounts, which can cause an overproduction of suds that can damage your machine, says He. 
Okay, so you haven't hit up Costco in a long time and you have almost nothing to use as a laundry detergent alternative. It's time to scour the backs of your pantry shelves for some vinegar. A dash of white vinegar to added to a wash cycle can break down stains and odors, and leave your clothes fresher than when they entered the washing machine. What's more, it's cheap! Vinegar should always have a place on your laundry room shelf, even when you finally do stock up on your favorite detergent. To use vinegar as a laundry detergent alternative, simply add a cup of white vinegar to your machine the same way you would add detergent. 
And if all else fails, you can always rely on the power of hot water. "For the most cleaning power, set the wash cycle to hot water or high temperature, set the soil level to heavy, and select steam options like normal, bulky, or sanitizing," says He. Avoid using delicate or speed wash settings. When it comes time to dry clothes, set the machine to normal, heavy-duty, or sanitizing and dry for 40 minutes or more on the highest setting.